We get a lot of questions about how our offering at DPGO compares to that of our closest competitors. Whether it's Wheelhouse, Beyond Pricing, AirDNA, Pricelabs, or Airbnb Smart Pricing, potential customers want to know the difference between DPGO and the rest of the Airbnb dynamic pricing tools on the market. 
This comparison post will focus on Pricelabs and the ways that our offering differs from theirs. 
Summary Graph
Below is a visualization of the differences between DPGO and our market competitors. We've also designed a DPGO vs Pricelabs visual explanation page.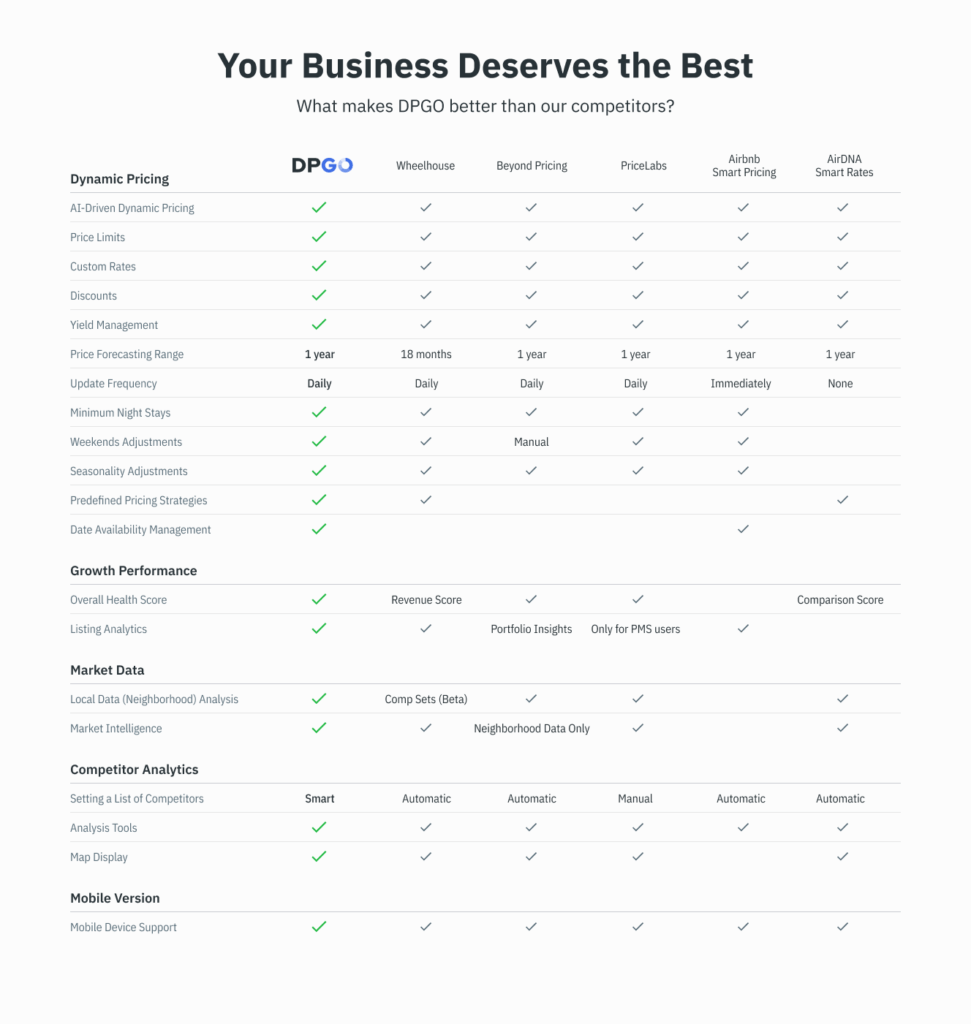 About DPGO
DPGO was founded by a group of Airbnb investors who own various properties across the United States and Canada. Our dynamic pricing tool is built on the basis of data collection and accurate analysis in order to find the perfect price for your listing in any given market environment. Instead of covering the entire globe on a basic scale, we decided to target specific areas in order to dig deeper and offer greater analysis into those chosen areas. 
Our data collection and analysis never stops. This, paired with our automated daily price updates, will keep you competitive 24/7/365. 
DPGO offers fully automated, data-driven dynamic pricing services. Our pricing recommendations are based on the analysis of large volumes of data that is specific to your local market. We also enrich that data with more global data, like exchange rates, global booking trends, international market health, and even trending travel news stories. 
We examine direct competitor pricing, market health score, booking pace, market supply, and general demand. By 'direct competitor', we mean if you have a two-bedroom apartment, we will only compare your listing with other two-bedroom apartments. These comparison properties must sit within a 500m radius and have open dates in their calendars. This ensures that your pricing is as accurate and competitive as possible because DPGO compares it only to your true direct competitors. 
DPGO offers the following capabilities: Health Score, long-term pricing, weekend adjustments, seasonality adjustments, event data, competitor data tracking, real-time market data, and Gap Night Stay technology. 
DPGO users can customize the following values: Base price, minimum & maximum price, minimum night stay requirements, day of the week minimum stay, date-specific minimum night stay rules, last-minute discounts, long-term discounts, weekend price changes, and seasonality adjustments (which you can personalize by month).
About Pricelabs
Pricelabs defines their dynamic pricing software as "Automated rate updates based on market data and your listing performance". They create prices based on "seasonality, day of the week, lead time, and local demand".
Pricelabs users can customize the following values: last-minute adjustments, 'orphan day prices', day of [the] week pricing, minimum prices, and occupancy-based adjustments. They also offer what they call 'dynamic minimum stays'.
Price Forecasting Comparison
DPGO offers price forecasting 52-weeks in advance. You can also set special pricing rules for dates far in advance in order to protect their financial interests. This amounts to 365 days of price forecasting.
Pricelabs offers price forecasting 180 days in advance.
Service Pricing Comparison
DPGO also offers a selection of market data for free, which is available to everyone via the Markets page. As a DPGO user, you can choose your own pricing plan. They can opt to pay 0.5% of a booking's value or $1 per booked night. This figure does not change based on the number of listings that you optimize through DPGO. 
Pricelabs offers 'portfolio analytics' for free, and their dynamic price services start at $19.99 for one listing and increase as your total number of listings increases. They offer a rate calculator on their website to help you understand how much you would need to pay in order to manage all of your listings.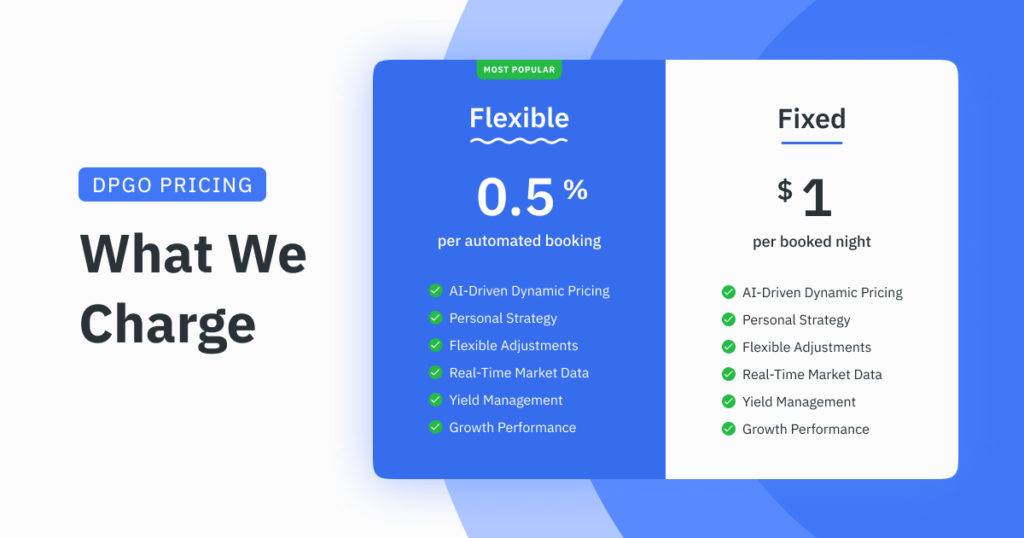 How Do They Compare?
Comparing DPGO and Pricelabs really hinges on what you're looking for in dynamic pricing software. Pricelabs offers three separate products, while DPGO offers those same functionalities in just one product. 
The suitability of each company's pricing again depends on your business needs. Pricelabs has a fixed price, which would ordinarily help people with higher volumes. However, that price increases based on the number of listings managed. DPGO has both a variable and a fixed pricing model. Neither of these changes according to the number of listings that you connect.
Both DPGO and Pricelabs offer a free 30-day trial. DPGO offers usage credits for every listing that you connect. You can use these credits to offset your DPGO bill which means you'll only start paying once these credits have been used up. 
To get started with DPGO and register for your free 30-day trial, visit our homepage, click 'sign up for free. You'll be taken through the set-up wizard and your Airbnb listing will be running perfectly with optimized prices!