The key to getting more Airbnb bookings is better pricing – it's that simple!
Here's how to get more Airbnb bookings with better pricing… The vacation rental market is constantly changing. Add a global pandemic into the mix and suddenly the success of your Airbnb listing is under even greater threat. Many are wondering how to manage the pricing strategy of a vacation rental property in a turbulent market. How do Airbnb hosts manage to keep their listings profitable in an economically uncertain time?
The answer to that question is complex. It also demands a large amount of work if you are not going to use dynamic pricing software. Critically, Airbnb property owners with an understanding of their market are more successful at marketing and managing their listings. But how can you succeed if you don't have access to the kind of detailed insights that you need?
In this blog post, we'll take a look at how to get more Airbnb bookings with better pricing. We will also introduce you to the benefits of DPGO. We also want to show you why creating an account with DPGO will be the best decision you ever make!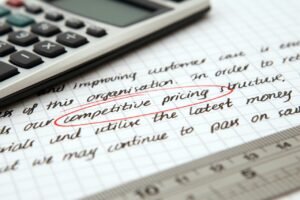 Dynamic Pricing Decisions
According to ResearchGate, "Without knowledge of fluctuations in demand, hosts have little on which to base their dynamic pricing decisions." Hosts that make use of dynamic pricing software see higher occupancy rates as a result of their greater market insights.
What is Dynamic Pricing?
First, let's explore what dynamic pricing is, how it works, and what benefits it can offer. Dynamic pricing sees businesses use changes in market demand to set their listing prices. Dynamic pricing means that the price of your property listing fluctuates according to the local market's booking trends.
For dynamic pricing software to increase your prices, it needs to detect a significant number of bookings in your local area. The majority of software can do in real-time and then adjust your prices accordingly. The instantaneous nature of this data allows you to earn the best possible price for your listing.
The Benefits of DPGO
While this talk of data may sound incredibly complicated but all you need to know is that the software will get you the highest possible price, within the parameters that you set on your software interface.
We break the benefits of using dynamic pricing software down into three main categories: financial, usability, and growth potential.
Starting with the financial aspect, arguably the biggest benefits of using software for property management are economically based. By optimizing your rental listing prices, the correlating increase in bookings means an increase in your associated profit.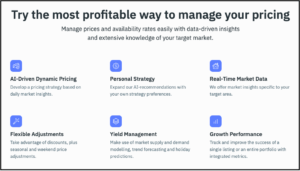 Another benefit of dynamic pricing is usability and time-saving considerations. Not having to manually update your Airbnb prices will free up time that you can instead use to perfect your listing information.
Another benefit is the growth potential, which takes two forms: the growth in popularity of your listing and the potential growth in your portfolio of vacation rental properties. Dynamic pricing gives you the peace of mind that you are earning as much money as possible with the listings that you manage via your chosen pricing software, like DPGO. The application of this increased revenue gives you the freedom to invest more money into your property or grow your portfolio to include more vacation rentals.
Optimized by Technology
In the modern world that we live in, every part of our lives has been optimized by technology. Why would the way we conduct our business lives be any different? 
Now that we are clear on what dynamic pricing is, how it functions the very general benefits, let's now look at how optimized prices lead to higher bookings when managed by dynamic pricing software like DPGO.
Market Understanding
As the effects of the pandemic start to show, Airbnb vacation home rental owners, managers and hosts need to be aware of where the market is leaning at any given point. If, for example, local restaurants and shops are allowed to open, it's safe to bet that higher booking rates are imminent.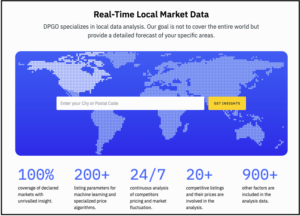 How Does This Affect Pricing?
The beauty of using dynamic pricing and software for property management is that you don't need to worry about adjusting your prices. It does it for you! Without AI-driven insights, a trend could appear, gain market relevance, and disappear all before you even become aware of it in the first place.
Being able to see these trends forming means there is still time to capitalize on them, which will give you a competitive advantage.
Top Tip: Boosting your market understanding means making sure you stay aware of events in your locale, upcoming national and international holidays, and any other occurrences that may drive bookings up in the area. This information may also help you market your Airbnb listings better. If you know that a concert, for example, is taking place a few blocks away, make sure that in the weeks leading up to the concert, you clearly state the distance from the concert venue in your listing bio. That way, you'll attract concert-goers and your location will become your greatest selling point.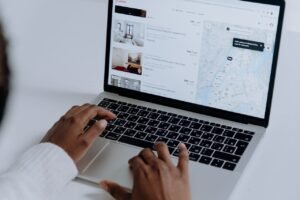 Competitive Pricing
Pricing is critical to vacation rental success. Industry insiders agree that it is a universal truth that online tourists compare the prices of vacation home rentals before they make a final decision and book.
Occupancy Rates
Price wars often benefit the tenant more than the owner. In the current climate, pricing has never been more critical. Employees took salary reductions during the pandemic, and many lost their jobs. People do not have as much disposable income as they did this time last year. Vacation home rental hosts who do not acknowledge this fact will see their occupancy rates continue to fall.
Lower Prices Win More Bookings
Competitive prices win bookings but making sure that your prices are attractive is far from an easy task. Manual price adjustments can end up taking the lion's share of your time. You could better spend that time looking for ways to grow your business.
DPGO, our AI-driven dynamic pricing software, is the perfect tool to alleviate the stress of manual pricing adjustments and optimize your earnings.
The very existence of sites like Airbnb means that customers have a myriad of options, in a very easily digestible format. Your listing needs to stand out from the crowd and, while the obvious factors apply (things like amazing photography, an evocative description, and a history of high ratings), price is the primary decider for modern customers.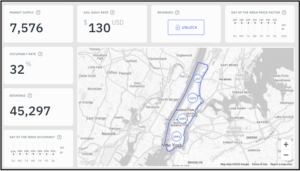 Top Tip: During the pandemic, it is worth updating your cancellation policy to allow greater flexibility. Renters want greater freedom to cancel their bookings if circumstances demand it. Forcing people to pay a cancellation fee in any other year would be normal. Sadly, in 2020, Airbnb customers are at the mercy of government restrictions, COVID infections, and possible contamination. 
Decided Discounts
Pricing in a smart way will set you apart from your competitors. Offering discounts will enable you to encourage longer bookings, off-peak bookings, and bookings during historically quieter times, like midweek periods. Running a successful Airbnb property listing means you have managed every aspect of your business in the most profitable way possible, and this includes taking advantage of the last-minute booking rush.
According to Airbnb, "the percentage of last-minute bookings has doubled since the emergence of COVID-19. According to our data, 29% of recent Airbnb bookings were made within a week before check-in."
This insight is exactly the type of information that successful vacation rental hosts use to their advantage. Gone are the days where booking months in advance was an advantage to the consumer. Instead, it suits both the property host and the potential renter to wait. Governments are relaxing and tightening global COVID restrictions on a near-daily basis.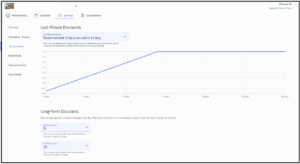 Airbnb Booking Trends
Airbnb booking trends from the last eight months show that renters are instead opting to wait until the very last moment to book a holiday break to avoid losing money due to the reinstatement of global travel bans. You should optimize your pricing strategy to take advantage of this last-minute booking trend.
Top Tip: Consider turning on Instant Book to optimize the booking process for your listing. The benefit of instant booking confirmations means that last-minute rentals are easier than ever. Even if you are used to using specialized software for property management, having to approve bookings via Airbnb can be laborious
With DPGO, you have the option to set up pricing rules that inform our smart software to offer price reductions. Having a loaded calendar, as opposed to a calendar of bookings only occupying peak times, is a more profitable way to manage a vacation rental listing.
Reactive Adjustments
Like every other market in the world, trends govern the vacation home rental market. As a normal Airbnb host, you won't be privy to market fluctuations, booking trends, or sudden surges in search traffic.
Taking advantage of these market fluctuations puts you in the best position to win as many bookings as you can. Offering slightly reduced rates to ensure a booking is often the smarter approach to reactive pricing. It will better position you to attract potential customers.
Similar to pricing your listing to stay competitive, reactive pricing allows you to quickly change and win a possible booking that you might have missed. Information is power, and never has this been more pertinent.
Based on travel trends, your new target market will be domestic tourists, who will save their bookings for the last minute. Normally, it would make more sense to lower your prices as the stay dates approach but in an increasingly "last-minute" booking atmosphere, this could be costing you valuable income.
If you use dynamic pricing software, detailed insights into local Airbnb booking trends are suddenly within reach. Not only would they be completely accessible to you with DPGO, but our pricing tool also takes them into account when making pricing decisions.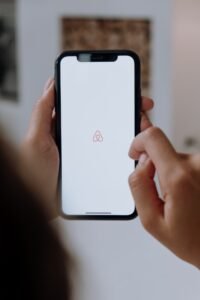 Specialized Rates
To get the most out of your Airbnb properties, you need to use specialized rates. The demand for vacation rentals varies wildly, and so too should your prices. Making sure to raise and lower prices according to seasonal demand is yet another way that successful Airbnb hosts maximize their income.
If your peak times are between June and August, but you often see a slump in vacation home rentals between November and February, then specialized rates can give you the best chance at winning those few available off-peak bookings.
Seasonal adjustments are critical to achieving reasonable occupancy rates across your annual calendar. However, you will also need to consider date-specific adjustments to take advantage of special occasions. Both of these holidays fall in the off-peak season, but December 16 to January 7, as well as the entire month of March, are excluded from the off-peak label as travel spikes during these periods. If your dynamic pricing software does not allow you to set date-specific rates, then you could be missing out on some of the benefits of working with smart pricing software.
DPGO gives you the freedom to set pricing rates according to anything from special events in the area and national holidays to seasonal variations and market trends. On our platform, you can set maximum prices per month to ensure that your potential customers never have to pay more than a certain amount. This feature is especially useful in off-peak months when there are fewer bookings for which to compete.
Tourism Trends
According to Brian Chesky, Chief Executive Officer of Airbnb, tourists are switching "from airplane to car, big city to small location, hotel to home," to avoid global travel restrictions while still being able to go on a holiday.
The majority of Airbnb bookings since the beginning of the pandemic have been within 200 miles of the Airbnb user's location, according to Bloomberg. These round trips usually equate to under one full tank of gas – a key factor when one considers the economic impacts of the pandemic on everyday incomes.
Having local market data is therefore critical to winning as many of the available bookings as possible and DPGO gives you the tools you need for success.
How DPGO Can Help You Get More Airbnb Bookings with Better Pricing
Dynamic pricing software like DPGO offers you much more than detailed insights. It offers you the freedom to move on to new business frontiers. At the same time, your current properties stay competitively priced by daily updates. Once you set your pricing rules, DPGO manages the process from there.
Our AI-driven software considers over 200 data points before making pricing recommendations. These data points include competitor pricing, customer ratings, property type, availability, list description, and more.
The comprehensive insights that we offer will allow you to maximize your earnings and optimize your booking calendar. Our users enjoy an average increase in revenue of up to 50%. Our users can also enjoy a potential increase in occupancy rates of up to 30%. With our local market expertise, we'll make sure you keep ahead of the curve and stay competitive 24/7, 356 days per year.
Sign up for DPGO today and get started on the most profitable time for your business! Visit DPGO now.