Navigating the world of vacation rental websites can be overwhelming, given the abundance of options available. Finding the best fit, whether you're hosting or traveling, is key. In this guide, we break down the top vacation rental websites. We'll highlight their unique features and how they serve different needs.
For hosts, selecting the right vacation rental platform can mean the difference between a fully booked season and a vacant property. Travelers, on the other hand, can benefit from a deeper insight into how these vacation rental websites work.
By the end of this article, our goal is to arm both hosts and travelers with the knowledge and tools needed to navigate the vacation rental landscape with ease. Whether you're new or experienced, this guide is for you. There's always something new to learn in this evolving industry.
Airbnb: A Global Leader in Vacation Rentals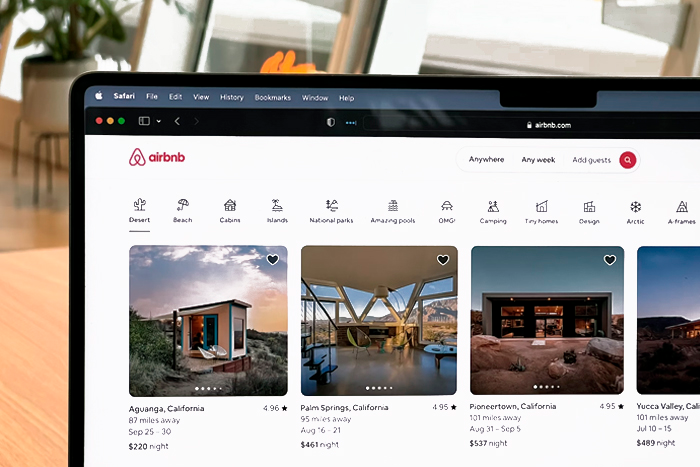 Airbnb has cemented its reputation as one of the best vacation rental sites in the industry, presenting a broad selection of vacation rental listings worldwide. Both hosts and travelers place their trust in this renowned platform, thanks to its expansive network and intuitive user interface.
Diverse Listings and Amenities
With an impressive roster of over 6 million listings spread across 100,000 cities, Airbnb dominates the vacation rental market, offering a myriad of accommodations to suit every traveler's needs.
From private rooms and apartments equipped with air conditioning to treehouses and castles, catering to every traveler's unique preferences, Airbnb ensures that guests can effortlessly find the ideal vacation rental.
A Platform for Hosts
Airbnb stands out not just as a paradise for travelers but also as a lucrative hub for hosts. The vacation rental platform allows for free vacation rental listings, while its adaptive fee structure is designed to maximize host earnings.
Nonetheless, the vacation rental market is fiercely competitive, and achieving visibility in search results is crucial for securing those sought-after bookings.
Host Protection and Support
Airbnb goes above and beyond to safeguard its hosts, implementing a robust $1 million Host Guarantee alongside the comprehensive Airbnb AirCover protection.
This fortifies hosts' confidence, empowering them to welcome guests, secure in the knowledge that they are backed by one of the most prominent names in the vacation rental sector.
Superhost Program
Airbnb's superhost program recognizes and rewards top-performing hosts, giving them more visibility and earning potential on the platform.
Secure Payment System
The platform provides a secure and straightforward payment system, protecting both hosts and travelers during the transaction process.
VRBO: A Haven for Family and Group Getaways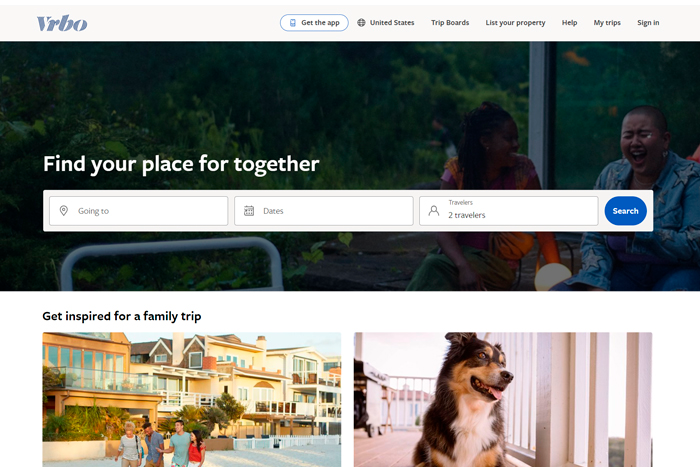 VRBO stands out in the vacation rental market by focusing primarily on properties that cater to families and larger groups. This unique positioning has made it a go-to site for travelers seeking spacious accommodations for their vacations.
Extensive Property Options
The vacation rental platform boasts a wide variety of family-friendly property types, ranging from houses and apartments to unique stays like cabins and villas. This diversity ensures that travelers can find the perfect space to suit their needs, whether they're planning a family reunion or a getaway with friends.
Dedicated to Guest Satisfaction
VRBO places a strong emphasis on guest satisfaction, encouraging hosts to provide top-notch amenities and services. This commitment to quality has helped the platform build a loyal user base, with many travelers returning time and again for their vacation rental needs.
Simple Fees
For hosts, VRBO offers a straightforward fee structure, charging a 5% service fee and a 3% payment processing fee per booking. This transparent approach makes it easier for hosts to understand their earnings and plan accordingly.
Robust Search and Filter Options
VRBO's search functionality includes robust filtering options, making it easy for travelers to find properties that meet their specific needs and preferences.
Trip Boards for Easy Planning
The platform offers Trip Boards, a feature that allows users to save and compare their favorite listings, making the decision-making process smoother.
Booking.com: A Hub for Diverse Vacation Rentals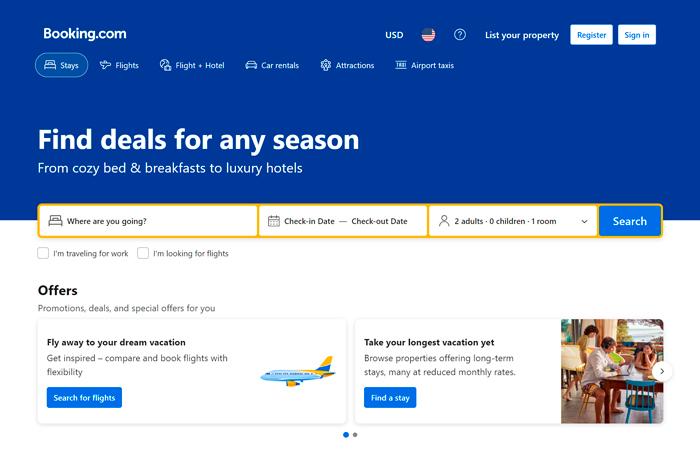 Booking.com has earned its reputation as one of the best vacation rental wesites worldwide. Offering an extensive range of vacation rentals and luxury stays, this platform ensures a seamless experience for both hosts and travelers.
Extensive Variety of Accommodation Types
From private apartments to grand beach houses, Booking.com showcases a wide array of unique accommodations. Travelers can enjoy exploring options that suit their style and budget. The platform provides detailed listings, allowing guests to plan their entire trip and explore local attractions with ease.
Dynamic Pricing and Deals
The platform utilizes dynamic pricing, frequently offering deals and discounts to help travelers find the best rate for their stay.
Strong Online Presence and Marketing
Booking.com invests heavily in online marketing, ensuring that rental properties listed on the platform receive maximum visibility across the internet.
User-Friendly Interface for Hosts and Travelers
The site's user-friendly interface makes it easy for hosts to list their rental property, attracting a global audience. Professional property managers and individual hosts alike find value in using Booking.com. The platform's visibility and reputation give rental listings the exposure they need.
No Service or Cleaning Fees
Booking.com stands out among vacation rental wesites by not charging additional service or cleaning fees, making it a cost-effective option for travelers.
Multilingual Customer Service
Booking.com offers customer service in over 40 languages, ensuring that travelers from around the world can receive assistance whenever they need it.
TripAdvisor: A Trusted Name in Vacation Rentals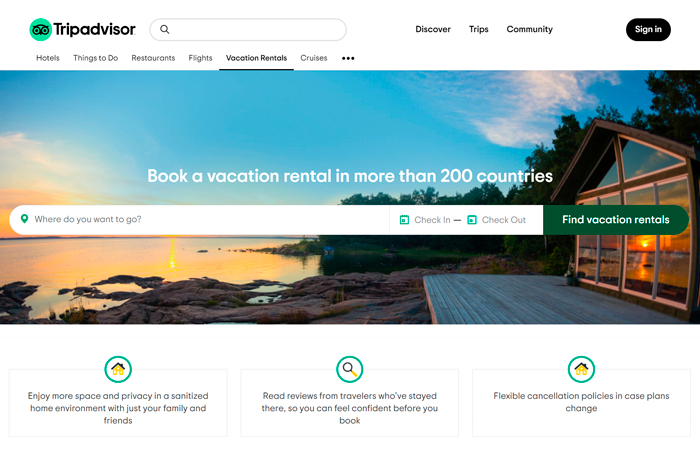 TripAdvisor, with its longstanding reputation, stands out as one of the best vacation rental websites offering the best deals in the most popular destinations. It offers an impressive array of vacation rentals, ensuring travelers find the perfect stay for their next vacation.
Wide Range of Options
From chic apartment rentals in major cities to cozy private units on the West Coast, TripAdvisor has it all. The platform allows travelers to browse offerings of entire homes, putting a plethora of options at their fingertips. Unlike other vacation rental sites, TripAdvisor also offers hotel rooms, providing a comprehensive travel experience.
User-generated Content and Reviews
TripAdvisor is renowned for its massive collection of user-generated content, including millions of reviews and opinions from previous guests. This feature ensures transparency and helps travelers make well-informed decisions.
Easy Navigation and Instant Booking
The user-friendly interface of this rental site makes searching for short-term rental properties a breeze. With the added convenience of instant booking, securing the best deal for your stay has never been easier. Travelers can find vacation rentals within walking distance of local attractions, adding an extra layer of convenience to their trip.
Mobile Accessibility
With a user-friendly mobile app, TripAdvisor ensures that travelers can browse offerings, book their stay, and access vital information while on the go, providing convenience throughout their entire trip.
Expedia: Your Gateway to Exceptional Vacation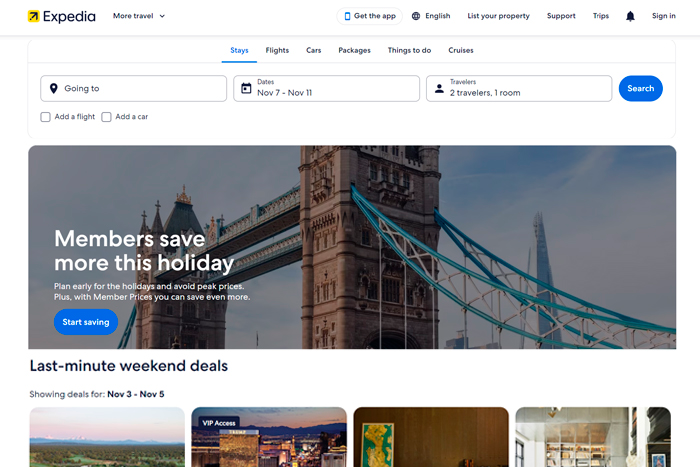 Expedia stands out in the vacation rental industry, showcasing an impressive portfolio as one of the largest vacation rental companies. It's part of the Expedia Group, a renowned name in travel, providing endless options for your next trip.
Search and Filter Precision
Expedia's advanced search results and filtering options allow users to narrow down their choices based on their preferences, ensuring they find the perfect vacation rental. Whether it's proximity to tourist attractions or specific amenities, Expedia makes it easy to find what you're looking for.
Expedia Group Network
Expedia provides unparalleled exposure for rental listings and offers travelers a vast selection of properties. This network effect enhances the overall experience for both hosts and guests.
Secure Booking Process
Expedia's robust platform ensures a secure and straightforward booking process, giving both hosts and guests peace of mind. This reliability is a significant factor in why many consider it among the best vacation rental sites.
More Than Just Rentals
Expedia goes beyond the standard rental sites, providing comprehensive travel solutions. From flight bookings to car rentals, it ensures every aspect of your trip is taken care of. Travelers can book their entire vacation in one go, making it a convenient option for those looking to streamline their travel planning.
Attractive Deals and Discounts
Regular promotions, deals, and discounts are available on Expedia, making it an economical choice for travelers searching for quality vacation rentals at competitive prices.
Agoda Homes: A Rising Star in Vacation Rentals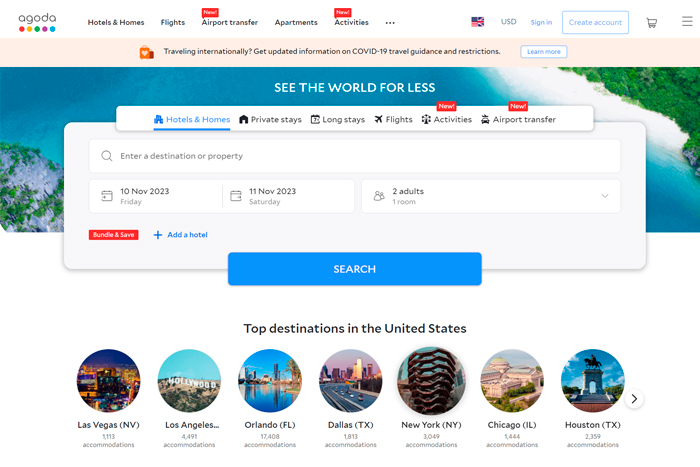 Agoda Homes is swiftly carving out a space for itself among the best vacation rental sites, bringing unique offerings to travelers worldwide.
Affordable Pricing
Agoda Homes is known for providing competitive pricing on vacation rentals, giving travelers access to affordable accommodation options without compromising on quality or location.
Reward Points and Deals
As part of the larger Agoda platform, Agoda Homes users can earn reward points and access exclusive deals, adding extra value to their vacation rental experience.
Strategic Locations
Many of the listings on Agoda Homes are situated close to popular tourist attractions. This makes it convenient for travelers to explore their destination and enjoy the local culture, cuisine, and entertainment options.
Integration with Agoda
Leveraging the power of the Agoda brand, Agoda Homes listings are integrated into the broader Agoda platform, providing increased visibility and booking potential for hosts, and more options for travelers.
Homestay: A Unique Travel Experience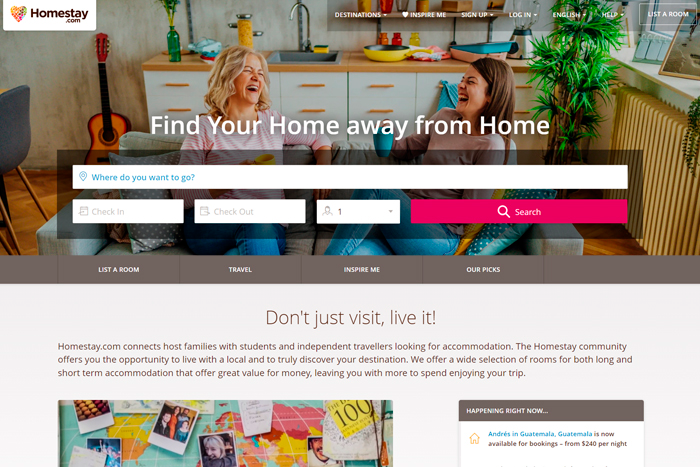 Homestay is known as one of the best vacation rental sites that stands out for providing authentic local experiences at an affordable price. Hosts open their homes, offering travelers a glimpse into local life and culture. This platform is perfect for those seeking a more personal and cultural travel experience.
Local Insight
Beyond just a place to stay, hosts serve as local guides, sharing hidden gems and personal favorites, creating a rich, immersive experience.
Affordability
With competitive pricing, Homestay is a budget-friendly option, giving travelers more room in their budget for exploring and experiences.
Personal Connection
The platform fosters genuine interactions, building connections that can last a lifetime and providing a truly unique travel experience.
Safety and Support
With a strong emphasis on safety, Homestay ensures that both hosts and guests are verified, creating a secure and trustworthy environment for all.
9flats: A Versatile Range of Listings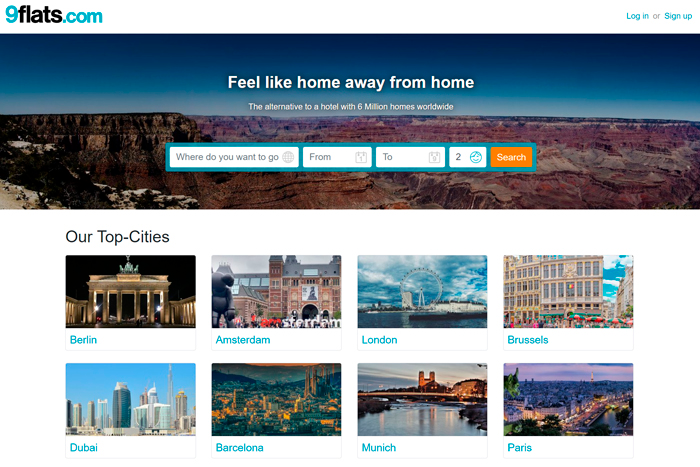 9flats encourages sustainable travel practices, promoting eco-friendly listings and providing tips for responsible tourism. This commitment to sustainability resonates with environmentally conscious travelers, differentiating the platform from other rental sites
Community Focus
9flats places a strong emphasis on building a community of travelers and hosts. Users can connect, share experiences, and offer advice, creating a sense of belonging and mutual support.
Local Experience
The platform encourages hosts to offer local insights and tips to guests, ensuring a more authentic travel experience. This focus on local knowledge differentiates 9flats from other vacation rental companies that might not emphasize this aspect as strongly.
Flexible Cancellation Policies
9flats offers various cancellation policies, tailored to the needs of both hosts and guests. This flexibility ensures that users can choose the option that best suits their situation, a feature that not all competitors may provide.
Personalized Recommendations
The platform provides personalized property recommendations to users based on their previous searches and bookings. This level of personalization enhances the user experience and sets 9flats apart from other short-term rental sites.
Tripping: A Search Engine for Vacation Rentals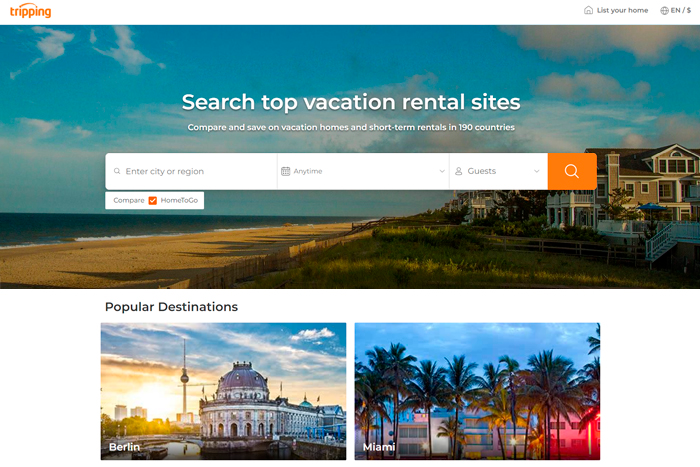 Tripping stands out as a comprehensive search engine for vacation rentals, aggregating listings from various vacation rental sites. It simplifies the search process, providing a one-stop shop for travelers to find the best deals. By using Tripping, travelers gain access to a vast network of vacation rentals, ensuring they find the perfect home for their next adventure.
One-Stop-Shop for Rentals
Tripping aggregates listings from numerous vacation rental sites, providing a comprehensive view of available rentals in your chosen destination. This feature saves time and enhances the convenience of finding the perfect stay.
Price Comparison Tool
With its effective price comparison tool, Tripping helps users ensure they are getting the best deal for their rental. It highlights various options, catering to different budgets and preferences.
In-depth Filters
Tripping's advanced filtering options allow users to refine their search, ensuring they find a rental that meets their specific needs. Whether it's a certain number of bedrooms, particular amenities, or proximity to tourist attractions, Tripping's filters make the search process seamless.
OneFineStay: High-End Luxury Rentals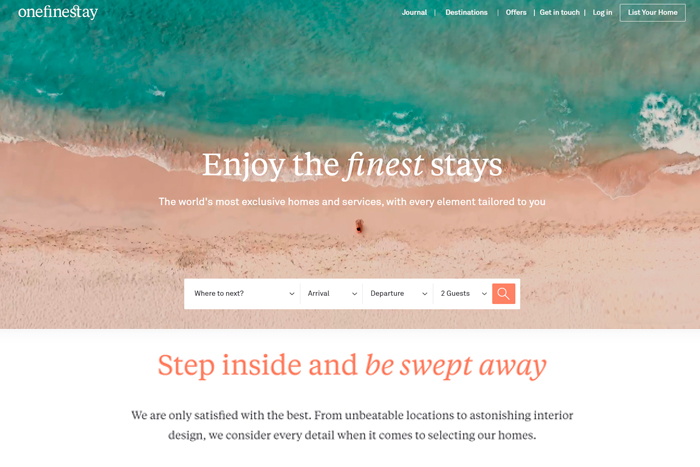 OneFineStay stands out among vacation rental sites, exclusively offering a portfolio of premium properties. This platform caters to discerning travelers seeking luxury, comfort, and exclusivity.
Luxury Accommodations
Each property is handpicked for its unique appeal and luxurious amenities, ensuring a stay that is nothing short of extraordinary.
Extensive Property Verification
HouseTrip places a strong emphasis on the authenticity and quality of its listings. Each property undergoes a thorough verification process to ensure that guests receive accurate and reliable information. This commitment to transparency and trust sets HouseTrip apart from some competitors.
Comprehensive Host Resources
HouseTrip offers a wealth of resources and tools for hosts, helping them manage their listings, set competitive prices, and provide excellent guest experiences. This support empowers hosts to succeed on the platform.
Rich Visual Content
Listings on HouseTrip feature high-quality photos and detailed descriptions, giving guests a comprehensive understanding of the property before they book. This visual richness helps the platform stand out and attracts more users.
Conclusion
Concluding our extensive exploration, we see a rich diversity in the vacation home rental landscape, catering to varied needs. Each platform in our roundup of the best vacation rental sites offers unique features, ensuring the perfect rental for every user.
Every platform strives for visibility, aiming for the top of the search results page. This ensures a wide array of choices for travelers and visibility for hosts. From luxurious amenities like hot tubs to essential bathroom supplies, they've got it covered.
The cleaning and service fees across these sites are transparent and reasonable, ensuring no hidden costs. Whether you are planning your next trip or listing your property, these platforms provide reliable and varied options.