Pay as You Go
Free 30-day trial. No СС required.
Flexible and Fixed plan includes:
AI-Driven Dynamic Pricing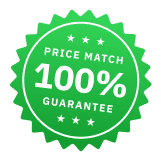 Price Match Guarantee
We guarantee that our prices are the best on the market today. If you are not satisfied with our offer, please
contact us
and we will find the perfect price for you.
Your Business Deserves the Best
What makes DPGO better than our competitors?
AI-Driven Dynamic Pricing
Predefined Pricing Strategies
Date Availability Management
Local Data (Neighborhood) Analysis
Setting a List of Competitors
Wheelhouse
Beyond Pricing
PriceLabs
Airbnb
Smart Pricing
AirDNA

Smart Rates
Frequently Asked Questions
Are there any set-up fees?
No, there are no set-up fees for any part of DPGO.
Do I need to enter my credit card details to get started?
No. You can register and start using DPGO without having to enter your credit card details. For each listing that you connect to DPGO, we will give you free credits to use our service. When your free credits run out, you can enter your credit card details to continue using DPGO.
Can I cancel my account?
Yes. If you ever decide that DPGO isn't the best way forward for your business, you can cancel your account at any time.
When does my account get billed?
You will receive an invoice from us every two weeks.
Which payment methods do you accept?
Right now, we only accept MasterCard, Visa, American Express and Discover credit cards.
What happens if my payment method fails?
If a payment attempt using the credit card details that we have on file fails, we will wait 24 hours before attempting to charge your credit card again. If payment fails for a second time, we will contact you via your registered email address and let you know that we have been unable to collect the due amount. You will then have to issue the payment manually, and your account will be restored.

Still have a question?
Feel free to contact our team with any questions or queries. We are here to help!
Ask us for help