In the next installment of the Comparison Series, we examine Wheelhouse pricing, a titan of the dynamic pricing industry. The aim of this series is not to drag our competitors' names through the mud. Rather, we want to present the facts and help you see that DPGO offers the most extensive insights for the most affordable prices!
So, without any further adieu, we'll dive into the details of DPGO and how we compare to Wheelhouse! We've also prepared a visual version of this feature, and you can view it here.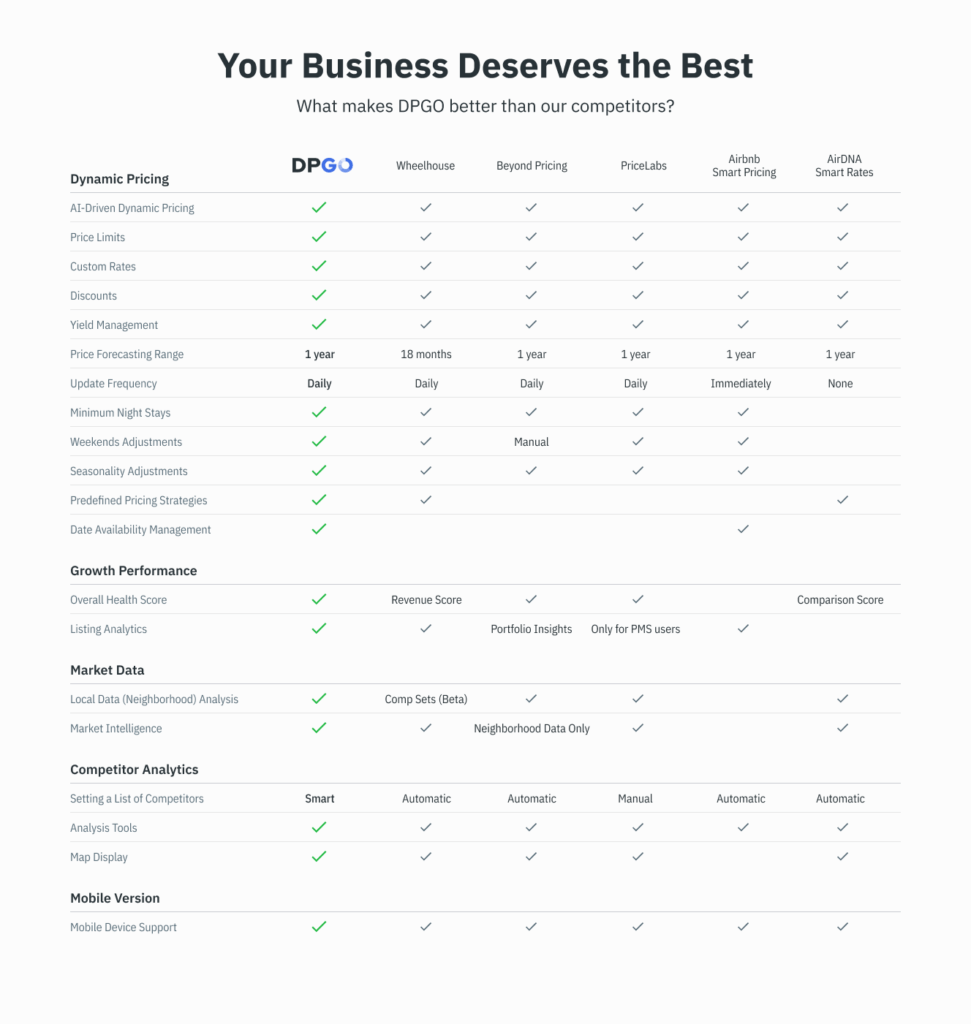 About DPGO
DPGO is a dynamic pricing tool that finds the perfect price for your listing in any and every type of market environment. By collecting and analyzing massive amounts of market data, our pricing engine gives your listing the best chance of securing every booking. 
Our company was founded by a group of real estate professionals and Airbnb investors, so we know a thing or two about running successful short-term rental businesses. When our founders were searching for a dynamic pricing tool, they discovered that the options on the market didn't quite meet all of their needs. They wanted an engine that would combine a certain depth of insights with affordability. And because they couldn't find it on the market already, they created DPGO!
Our main focus is on dynamic pricing. Not only does DPGO collect and analyze billions of pieces of data, but we use it to find the perfect price for your property and automatically update your prices on a daily basis. 
DPGO users can optimize more than just their pricing. We create recommendations and offer personalizations for your minimum night stay settings, discounts, pricing limits, seasonal changes, weekend fluctuations, cleaning fees, and more. We also developed a capability that allows you to accept bookings lower than your minimum night stay requirements if that booking fills a gap in your calendar and it meets your financial expectations. It will also only accept one-night bookings if you enable that functionality.

For non-DPGO users, we created Markets, our free data insight portal. Without having to sign up, anybody can access a selection of free market data, specific to their local area. You can access Markets by DPGO here.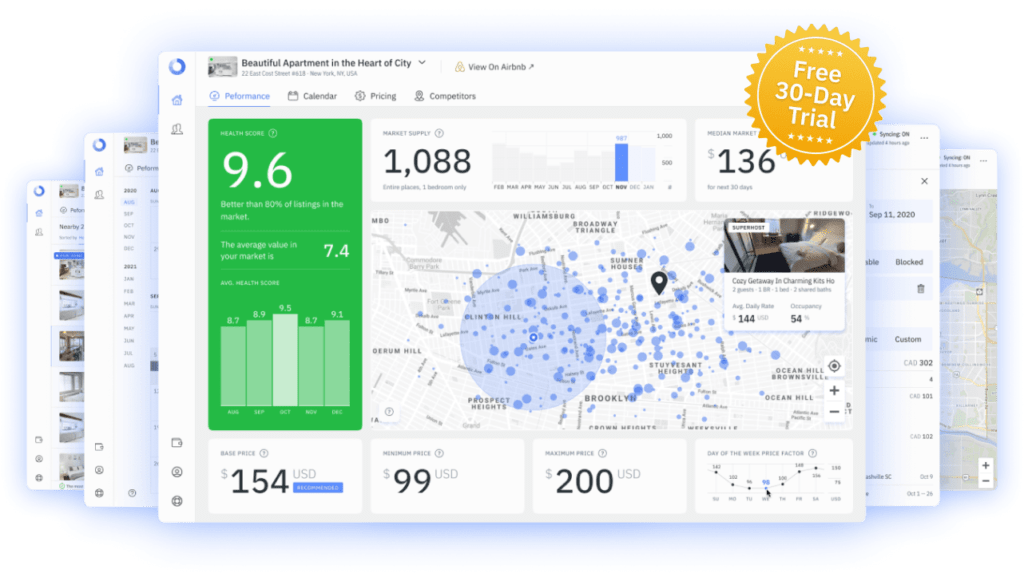 About Wheelhouse
Wheelhouse also offers dynamic pricing, a free market insight tool, and much of the same capabilities. 
The Wheelhouse software forecasts prices for 18-months in advance for PRO users only, whereas DPGO forecasts for 12-months for all users. We both offer special pricing rules for dates far in advance, and price reductions for dates that are fast approaching. 
Wheelhouse also offers dynamic pricing, market intel and comp set intel. Each of these is then broken down into smaller sections, and they can be viewed on their website. 
Service Pricing Comparison
DPGO offers a selection of market data for free, which is available to everyone via the Markets page. DPGO users are given a choice of pricing plans. They can opt to pay 0.5% of a booking's value or $1 per booked night. This figure does not change based on the number of listings that you optimize through DPGO, even if you manage over 100. 
Wheelhouse also offers two pricing options. Users can choose between 1% of listing revenue (per month) or a straight cost of $19.99 per listing per month. This price decreases as the number of listings on your account increases. For between 10 and 49 listings, you'll be billed $16.99 per listing and for between 50 and 100 listings, you'll pay $13.99 per listing per month. For portfolios that number over 100, potential customers need to contact Wheelhouse for more personalized discussions.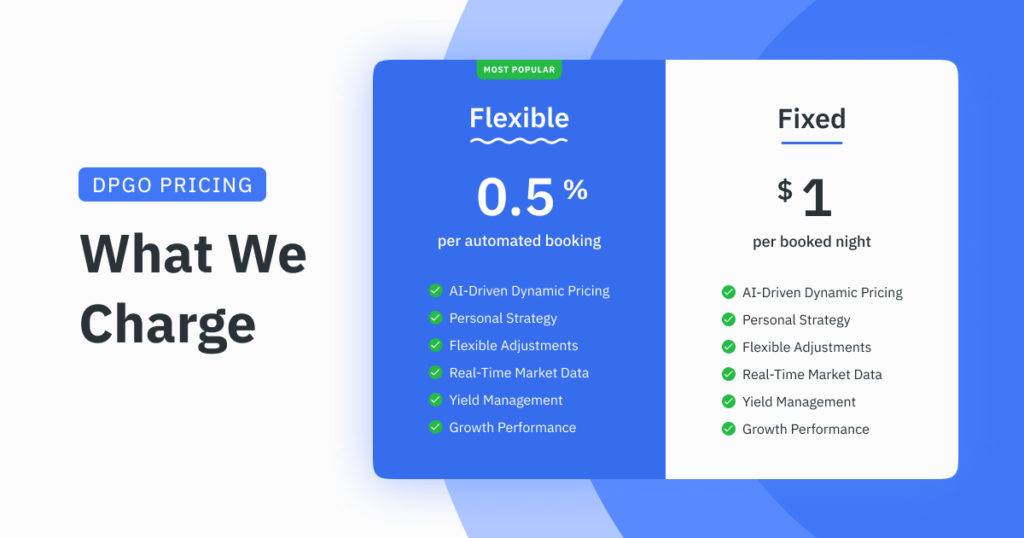 How Do They Compare?
Like most dynamic pricing tools, the intricacies of their pricing software differ drastically. But as a consumer, that doesn't matter much provided that you get the insights that you need. 
DPGO offers a free 30-day trial. Wheelhouse does not. Both offer free market insights without needing to sign up, but DPGO offers more in-depth data.