In the next installment of the Comparison Series, we take a look at Airbnb Smart Pricing, a subdivision of Airbnb. We're not here to trash our competitors. Rather, we want to present the facts and help you see that DPGO offers the most extensive insights for the most affordable prices. 
First, let's examine the DPGO offering before we compare it to that of Airbnb Smart Pricing!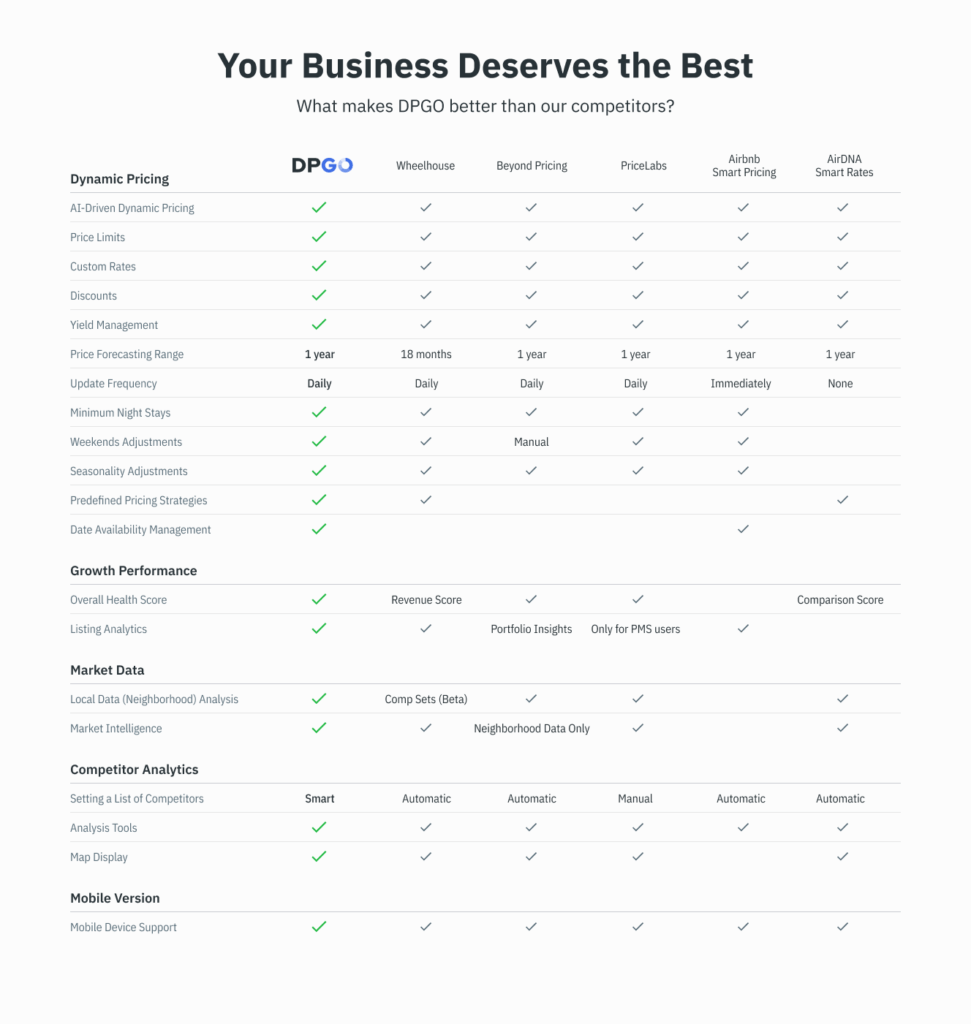 We've also designed a DPGO vs Airbnb Smart Pricing visual explanation page.
More About DPGO
DPGO is a dynamic pricing tool that finds the perfect price for your listing in any and every type of market. By collecting and analyzing massive amounts of data, our pricing engine gives your listing the best chance at success. 
Our company was founded by a group of real estate investors, so we know about running successful short-term rental businesses. When our founders were searching for a dynamic pricing tool, they discovered that the options on the market didn't quite meet all of their needs. They wanted an engine that would combine a certain depth of insights with affordability. And because they couldn't find it on the market already, they created DPGO!
Our main focus is on dynamic pricing. Not only does DPGO collect and analyze billions of pieces of data, but we use it to find the perfect price for your property and automatically update your prices daily. 
DPGO users can optimize more than just their pricing. We create recommendations and offer personalizations for your minimum night stay settings, discounts, pricing limits, seasonal changes, weekend fluctuations, cleaning fees, and more. We also developed a capability that allows you to accept single-night bookings if that booking fills a gap in your calendar and it meets your financial expectations. In other words, it will only accept a one-night booking if it's financially beneficial to you and your business.

For non-DPGO users, we created Markets, our free data insight portal. Without having to sign up, anybody can access a selection of free market data, specific to their local area. You can access Markets by DPGO here.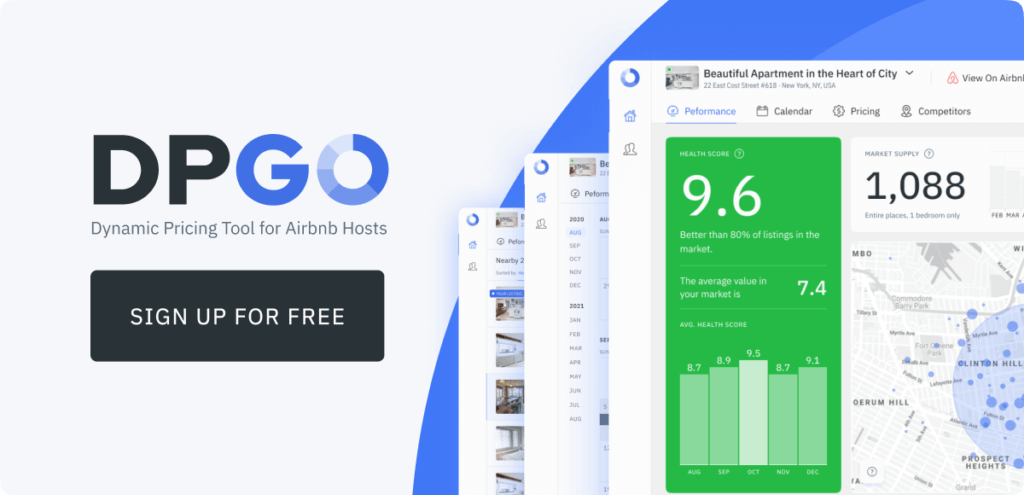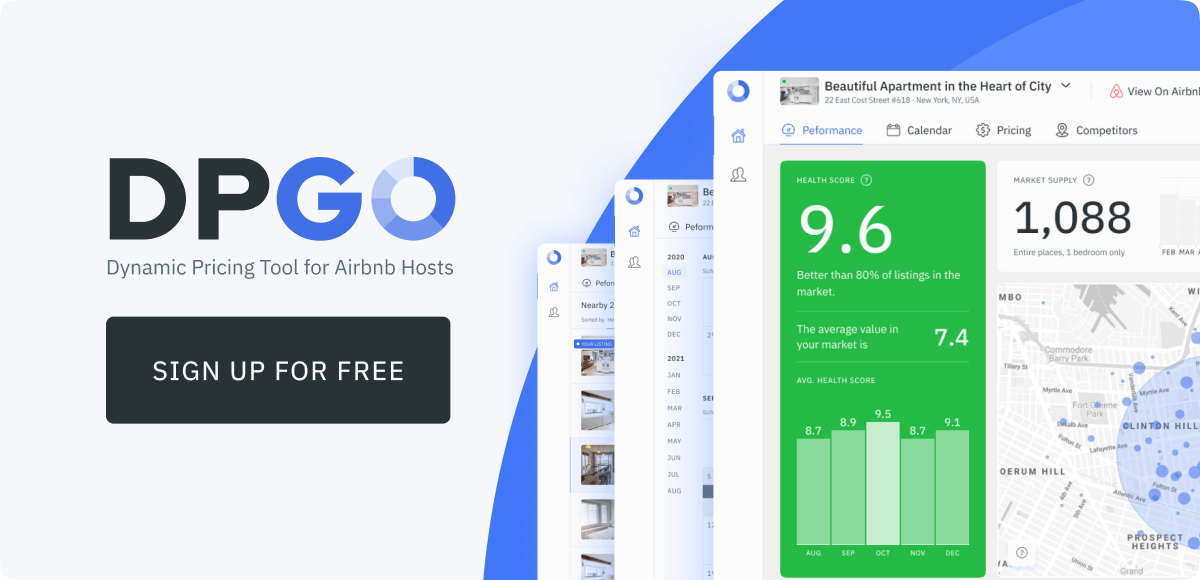 More About Airbnb Smart Pricing
Airbnb Smart Pricing differs from other dynamic pricing engines in that it doesn't give you the same accessibility. But, also unlike other pricing engines, Airbnb Smart Pricing is free. 
Airbnb Smart pricing is a very simplistic dynamic pricing engine in that it does what it says, but no more. Most dynamic pricing engines on the market include other aspects like competitor analysis, listing health analytics, and market trend forecasting. 
It does offer automation, which is important. It also offers price forecasting, but the analysis is based on changes in the pricing of your competitors who have listings that match yours. They base this on property type, amenities, location, and "other factors", according to Airbnb's Help Centre. 
Similar to DPGO, Airbnb Smart Pricing gives you the opportunity to personalize your pricing settings and develop a pricing strategy that suits you. However, the pricing settings that DPGO offer are more extensive, so you have greater control over your pricing. 
Airbnb Smart Pricing draws their pricing recommendations from the pricing of similar listings in your area, and nothing else. They don't examine greater regional trends across property types, international trends, news stories, exchange rates, and locations. 
Service Pricing Comparison
DPGO offers dynamic pricing, automatic, competitor analysis, in-depth market analytics, and more all included in one subscription plan. As a DPGO user, you can choose between two pricing plans: 0.5% of a booking's value or $1 per booked night. This figure does not change based on the number of listings that you optimize through DPGO, even if you manage over 100. 
Airbnb Smart Pricing is free for all Airbnb hosts, except those in Spain. While you do not pay for the services of Smart pricing, Airbnb does charge a Service Fee on every booking whether you use it or not.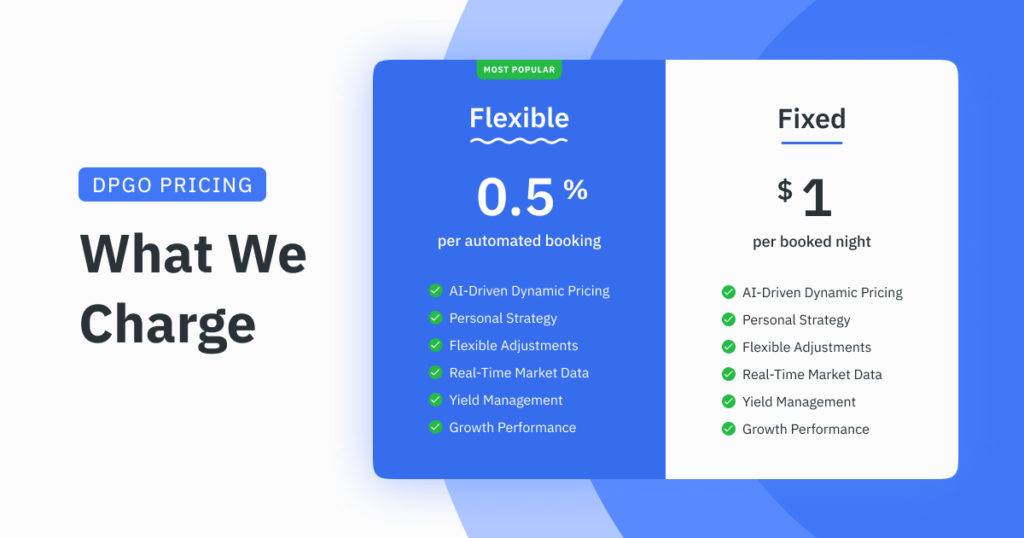 How Do They Compare?
Call us biased, but for the majority of Airbnb hosts, we'd allege that our offering is slightly more alluring, simply because of the amount of data that we analyze. While Smart Pricing is run by the platform itself, that doesn't necessarily mean it offers better insights. We did a lot of research before we opened for business and more than a few hosts who had tried Airbnb Smart Pricing complained that the service simply bottomed out their pricing. Smart Pricing encourages hosts to stipulate a minimum and a maximum price, so this should protect hosts from having to honor bookings for rock bottom pricing. 

DPGO offers users more control and pricing recommendations created from more in-depth data insights. The choice between DPGO and Airbnb Smart Pricing really comes down to whether you want to pay for the service, and how serious you are about optimizing your pricing. If you're unsure of the whole dynamic pricing thing, why not try them both? Airbnb Smart Pricing is free to use and free to cancel, and DPGO offers a free 30-day trial period. You don't have anything to lose! Get started with dynamic pricing and see where it gets you!