In the latest post in our Comparison Series, we're talking about the true dynamic pricing giant! This week, it's Beyond Pricing, now known simply as 'Beyond'. 
The rest of this series covered Wheelhouse, AirDNA, PriceLabs, and Airbnb Smart Pricing. 
Beyond is the biggest player in the dynamic pricing game, and we have nothing but respect for their business. We offer similar services, but our features do differ, however slightly. 
Some pricing engines on the market today charge pretty hefty prices, but we're not one of them! Arguably the biggest difference between us is our pricing model, which we'll jump into a little bit later. But for now, here's DPGO vs Beyond Pricing.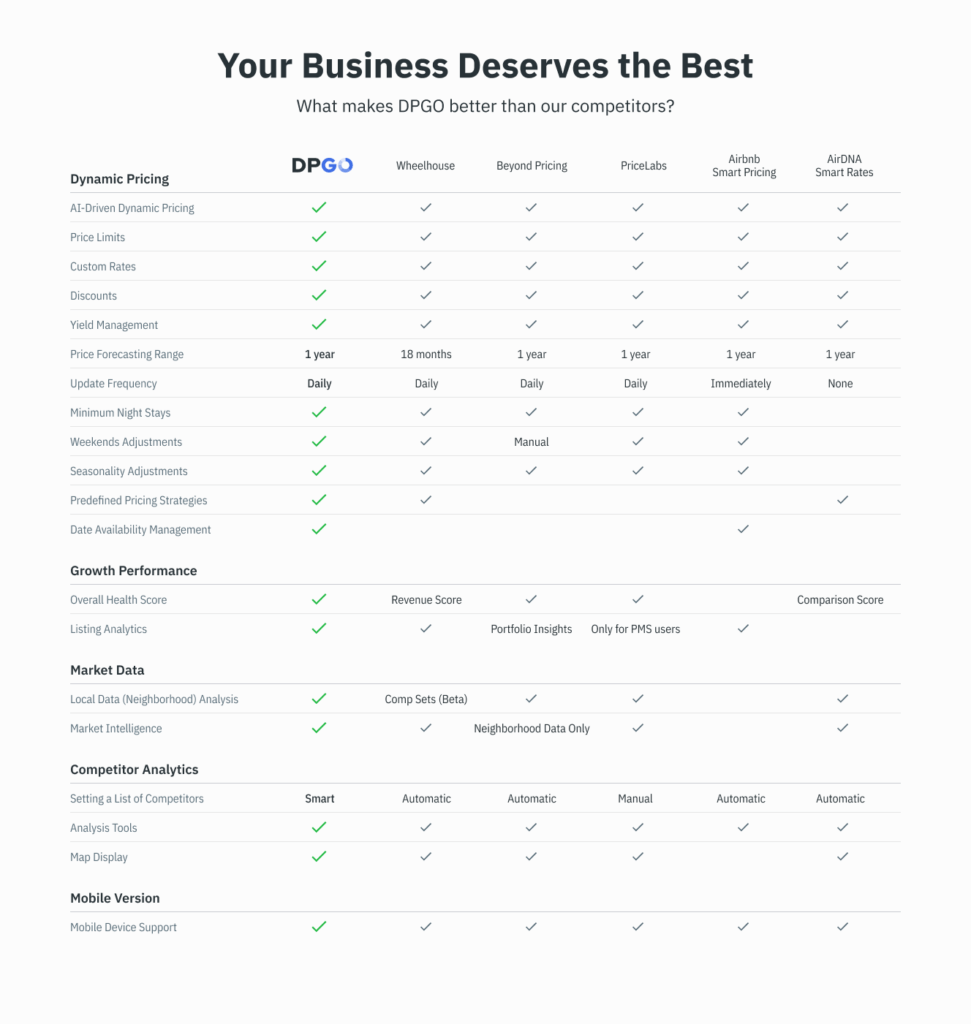 More About DPGO
Primarily, DPGO is a dynamic pricing engine that aims to win the highest price possible for every Airbnb booking. By monitoring a wide range of differentiating factors including exchange rates, local events, flight patterns, competitor listings, market surges, and changes in booking patterns, we can both forecast and react to changes in the market without missing a beat. 
One of the best things about our software is that it learns. Our software is enriched with deep-learning capabilities so it gets more accurate with every price forecast. Markets often work in semi-cyclical sequences. DPGO can forecast, track, monitor, and adapt to these patterns without you ever needing to lift a finger. 
An additional feature that we offer is our beloved Performance Dashboard, of which we are so proud. The Performance Dashboard acts as a homepage for DPGO users. We filled it with important data displays, informative graphs, forecasts, and live data reporting. 
People also love our Markets feature. We know that not everyone will want to make use of dynamic pricing, so we decided to create a free short-term rental market data tool to show everyone the sorts of insights that we can offer. It also includes a map, Health Scores, daily rates, occupancy averages, and more. 
DPGO offers our users the opportunity to make personal adjustments to their pricing strategies. There are so many personalization options available, with adjustable features like Base Prices, minimum night stays, seasonal price fluctuations, and discounts.
Hostfully, Hostaway, and iGMS are just a few of our partners. Our list of connections is constantly growing so stay tuned!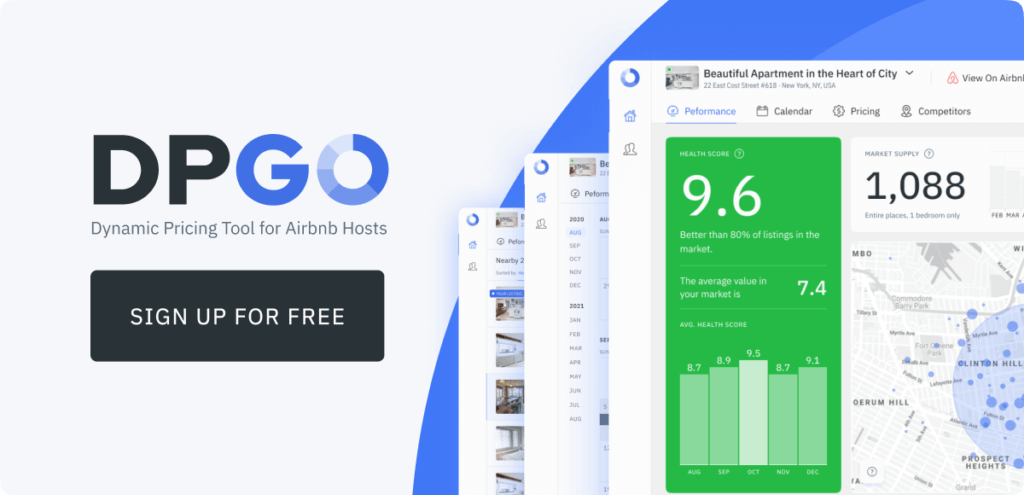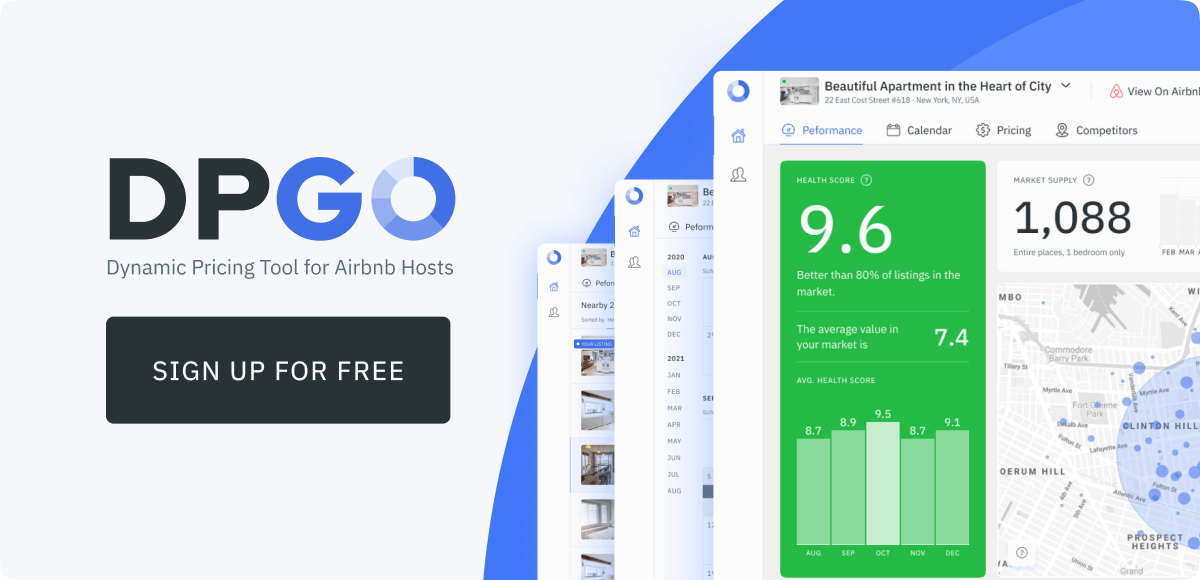 More About Beyond
Beyond is a revenue management solution for short-term owners and managers to get, grow and maintain a steady revenue stream. The company made its name in dynamic pricing services for vacation rental properties and, just like DPGO, the price recommendations that they create rely on the collection and analysis of relevant data. 
On the Beyond website, it says "Pricing was just the start. We quickly discovered that there was so much more missing in the short-term rental management ecosystem." So they grew their business to include: website building capabilities, forecasting, informed support, data-based projections, and the ability to sync calendars. 
Beyond offers market intelligence data, but it only considers data that is specific to a listing's surrounding area. 
Beyond Pricing is integrated with the majority of the leading industry property management systems including Guesty, Hostaway, Hostfully, Hostify, LiveRez, and Lodgix.com.
Service Pricing Comparison: DPGO vs Beyond
DPGO offers dynamic pricing, automatic, competitor analysis, in-depth market analytics, and more all included in one subscription plan. As a DPGO user, you can choose between two pricing plans: 0.5% of a booking's value or $1 per booked night. This figure does not change based on the number of listings that you optimize through DPGO, even if you manage over 100 properties. 
Beyond is the most expensive market option, but they do not offer the best features. Beyond's pricing model is set at 1% of a booking's value. Beyond's 1% pricing scheme includes market and competitor analysis.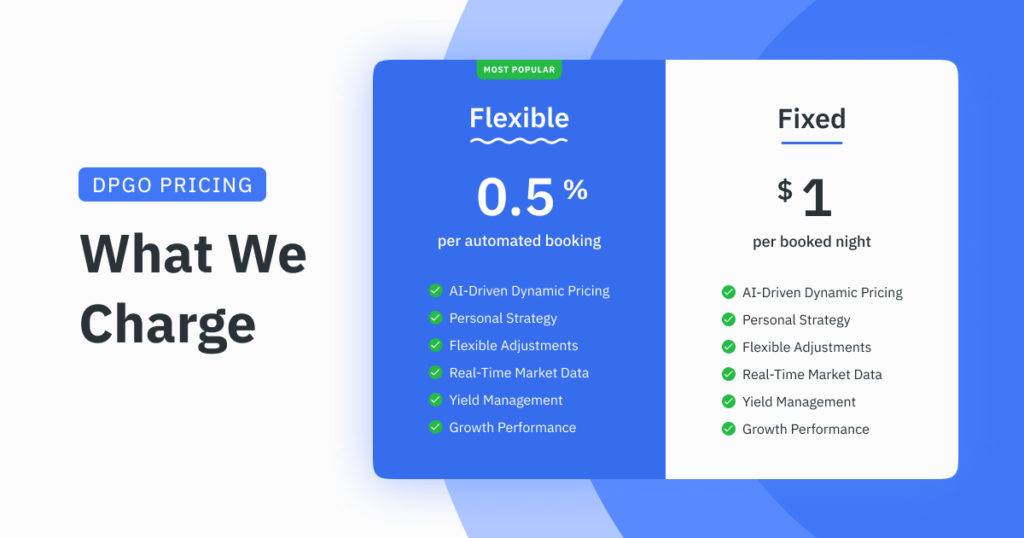 How Do They Compare?
DPGO and Beyond offer very similar services, but there are a few differences. 
Firstly, we display our listing analytics in our Performance Dashboard, and the data we display is specifically relevant to your listing. This makes our design more visual and a much better way to display data. Beyond displays their listing analytics in the Portfolio Insights section and there is no particular emphasis on your listing specifically. 
DPGO offers four predefined strategies as well as the option to build your own. Beyond does not offer predefined strategies but does offer its users the option to create their own. 
We also offer local market data specific to your listings and free greater market data via 'Markets', whereas Beyond only offers a small selection of neighborhood data. 
DPGO also offers date availability management, with Beyond does not. Beyond offers website-building capabilities, and DPGO does not. Weekend adjustments must be made manually on the Beyond interface, but DPGO automates this process. We also offer 16 hours per day live support for customers, while Beyond does not. 
Both offer a free 30-day trial, and they also both forecast and update prices up to a year in advance.