Second in our Comparison Series is AirDNA. This week, we'll jump into the nitty-gritty of the differences between the services that DPGO offers, and those that AirDNA offers. 
Unlike our other competitors, AirDNA does not offer automated dynamic pricing. As you may know, DPGO offers data analysis, automated dynamic pricing, trend forecasting, and automation. AirDNA offers enterprise data, and their 'MarketMinder'.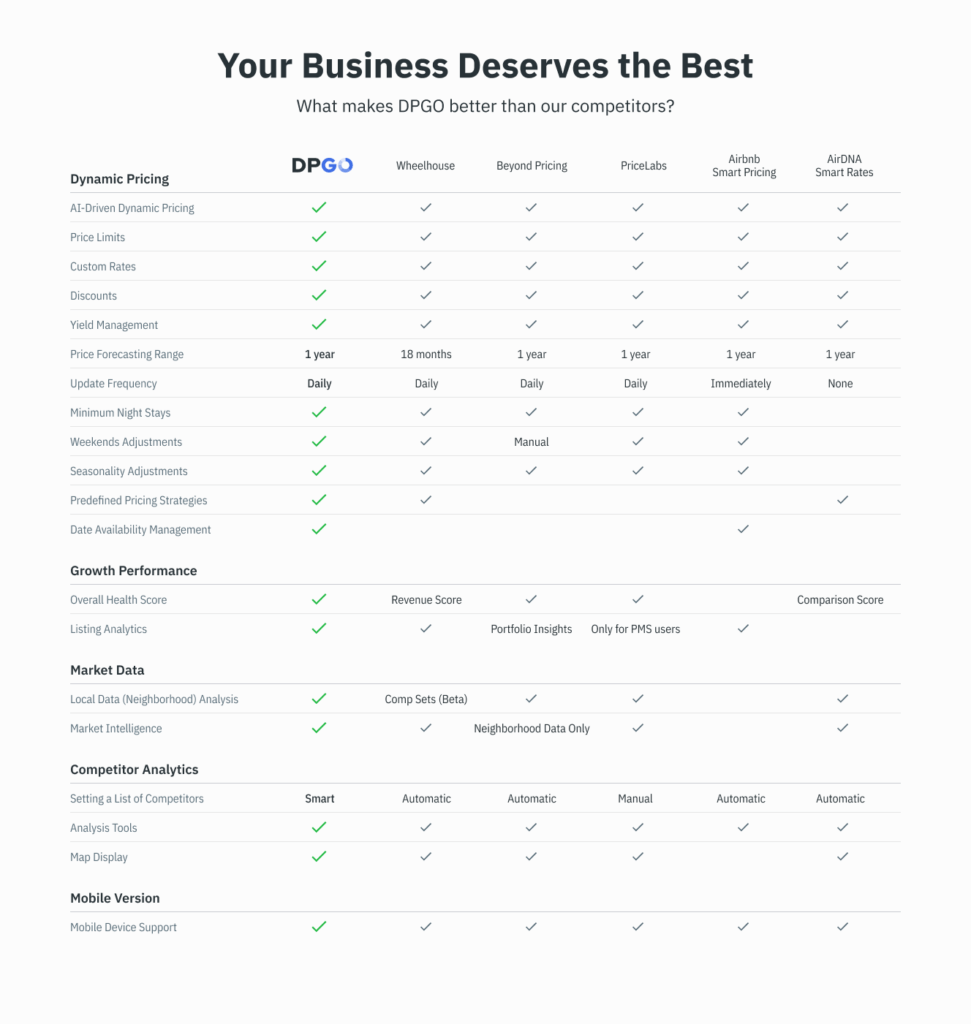 We've also designed a DPGO vs AirDNA visual explanation page.
About DPGO
DPGO was founded by a group of Airbnb investors and experienced short-term rental (STR) hosts. Not only do we know the industry inside and out, but we also specialize in the collection, analysis, and optimization of STR data. Instead of aiming to cover the entire world, we wanted to focus on specific areas. This enables us to get deeper into the data and analyze it with greater depth. 
The data collection, analysis, and optimization system that we developed never stops. This means that your prices are always competitive, data-driven, and perfectly placed to secure a booking. These prices are determined by a massive range of data. We examine everything from competitor pricing to exchange rates and global booking trends in order to make sure your prices are ideally pitched within your local market. 
More About DPGO
Unlike most other dynamic pricing tools, we examine your true, direct competitors. By 'true, direct competitors, we mean properties that are similar to yours. If you have a five-bedroom house, then we will only compare your prices and listing health to other five-bedroom houses within a 500m radius. By doing this, we narrow down your actual competitors and ensure that your listing is the most appealing in terms of price. 
DPGO is equipped to display and customize long-term pricing, weekend adjustments, seasonal price changes, minimum night stay requirements, base prices, maximum and minimum price figures, date-specific discounts, time-specific discounts, and more. 
We also offer specific technologies that other companies simply do not offer. Namely, our Gap Night Stay technology. We developed this functionality to be as dynamic and advanced as possible. It allows us to offer single-night stays in order to cover a gap in your listing's calendar. The ingenious thing about this is that it does not confuse your global minimum night stay, or your day of the week minimum night stay requirements.
About AirDNA
AirDNA offers data predominantly. AirDNA customers can purchase data on a specific target location and use said data to optimize their pricing and their general listing details themselves. 
This differs from DPGO's offerings in several ways. AirDNA is a data service. You request the data, pay for it, and they deliver it to you. Their service is the collection and display of short-term rental data. You will have to do the optimizing yourself as these data insights are not accompanied by any automated functionality in regards to pricing. They do offer pricing suggestions, but they require manual updating on your vacation rental calendars. 
AirDNA collects its data on a monthly basis. With it, a report is created and that data is sent to their customers and displayed as 'average' figures. This data is then translated into dynamic pricing suggestions, but they are not based on reactive data. We also display average figures, but ours change on a daily basis.
Price Forecasting Comparison
DPGO offers price forecasting 52-weeks in advance. You can also set special pricing rules for dates far in advance in order to protect their financial interests. This amounts to 365 days of price forecasting, throughout your peak and off-peak seasons.
AirDNA is a data service only, and so they do not offer price forecasting. Their data can only show you historical pricing.
Service Pricing Comparison
DPGO also offers a selection of market data for free, which is available to everyone via the Markets page. DPGO users have a choice of pricing plans. They can opt to pay 0.5% of a booking's value or $1 per booked night. This figure does not change based on the number of listings that you optimize through DPGO. 
AirDNA pricing varies according to the popularity of the market in which you want to access data. For markets with under 100 active listings, you'll pay $19.95 per month. For markets between 100 and 1,000 active listings, you'll pay $39.95 per month, and for markets with more than 1,000 listings, it's $99.95 per month.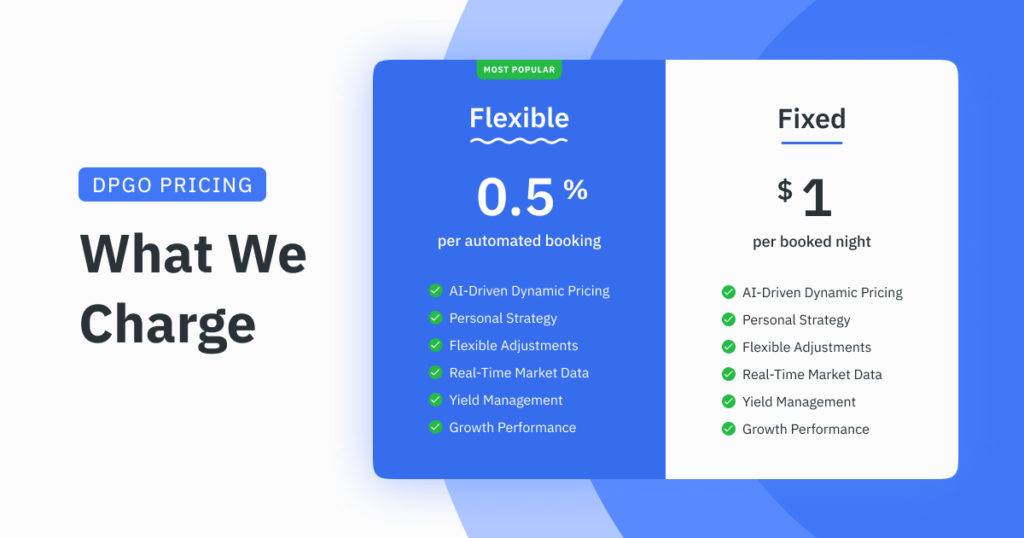 How Do DPGO & AirDNA Compare?
AirDNA and DPGO offer similar services, but they differ in substantial ways. While we both collect large amounts of STR data, how we use that data is very different. 
AirDNA offers access to data that you would not be able to collect on your own. You are then tasked with using this data to your advantage. DPGO also offers you access to STR data but combines that service with an automation and pricing optimization service. This means that you do not have to interpret the data and that we do it for you. We also automatically update your prices on a daily basis to ensure that you are kept competitive 24/7/365. 
DPGO offers free market data via Markets, which will show you a range of values like average daily rate, average occupancy rate, market supply, and more. AirDNA also has a functionality similar to this, but you have to register with them to access it. 
We also offer four main pricing strategies, that allow our customers to personalize their business goals and tailor their pricing strategy to suit them perfectly. 
For new customers, DPGO offers a free 30-day trial. We also offer usage credits for every listing that you connect. You can use these credits to offset your DPGO bill. 
To get started with DPGO, click on the banner below!