Airbnb Dynamic Pricing Software for Maximum Revenue from DPGO
Ever thought about using an Airbnb Dynamic Pricing software tool? We know that running a successful Airbnb listing is a stressful endeavor. There are a million decisions to make, and without vital insights, how does one get started on running an optimized Airbnb listing?
At the heart of a successful Airbnb property or portfolio sits a strong pricing strategy. What you charge for your listing determines its success. The importance of choosing the right strategy for your company's goals cannot be understated. Airbnb pricing is as critical as location, customer reviews, property features, and amenities.
Pricing Strategy and Airbnb Dynamic Pricing Software
First, let's examine what we mean by a 'pricing strategy'. A pricing strategy is a model or procedure that you use to determine the best prices for your property listing. If your pricing strategy is off base, you could scare away valuable bookings with prices that are too high. You could also lose out on a valuable income because your prices are too low and do not cover costs.
There are various pricing strategies that you can use, but none are more advanced than dynamic pricing. Before we can highlight how to use dynamic pricing, we first need to define dynamic pricing. Dynamic pricing is categorized by the use of market supply and demand data to get the best price for your product or service. This pricing strategy is based almost entirely on market insights. It depends on access to large quantities of data to gain an understanding of that specific market.
How does DPGO Dynamic Pricing Software help?
Our Airbnb Dynamic Pricing software finds this data and uses it to ascertain how much demand there is in the market. It then adjusts your prices accordingly. Based on AI-driven insights and deep learning technology, we've taken our offering to the next level. We developed our software to learn and improve its recommendations with every piece of data it reviews. By incorporating deep learning capabilities, our software will not only review live data but will also make informed market predictions. This will allow you to stay ahead of the curve.
Check out our blog post on how dynamic pricing increases Airbnb bookings!
As local market experts, we know how vital in-depth insights can be. Our DPGO platform allows you to set pricing rules for every aspect of your Airbnb booking process. DPGO gives you the freedom to set the limits of your pricing strategy without having to update daily.
In this blog post, we wanted to take you on an in-depth tour of the features that DPGO offers. We also wanted to explain some of our detailed insights and how they can help. We'll explain these features, as well as let you in on a few insider tips and tricks from Team DPGO.
AI-Driven Dynamic Pricing
In order to be considered 'AI-driven', the software needs to consistently prioritize the acquisition and analysis of high-quality data. DPGO does this with ease. At present, we evaluate over 200 market data points in order to create our pricing recommendations. These recommendations are completely unique to each user's Airbnb listing. Our Airbnb Dynamic Pricing software considers the following data points in its analysis, as well as many more:
Reviews
Local booking trends
Competitor pricing
Competitor occupancy rates
Seasonal fluctuations 
Historical booking rates
Local events
Days of the week
Length of stay
Availability
Amenities
Location
Property type
Neighborhood
Proximity to vital services
By using these insights, our Airbnb Dynamic Pricing software builds a better picture of your listing. It then updates your prices to ensure that you win as many available bookings as possible. Anyone can mark down their prices and run at a loss – the art of dynamic pricing is earning as much as you can in a particular market atmosphere.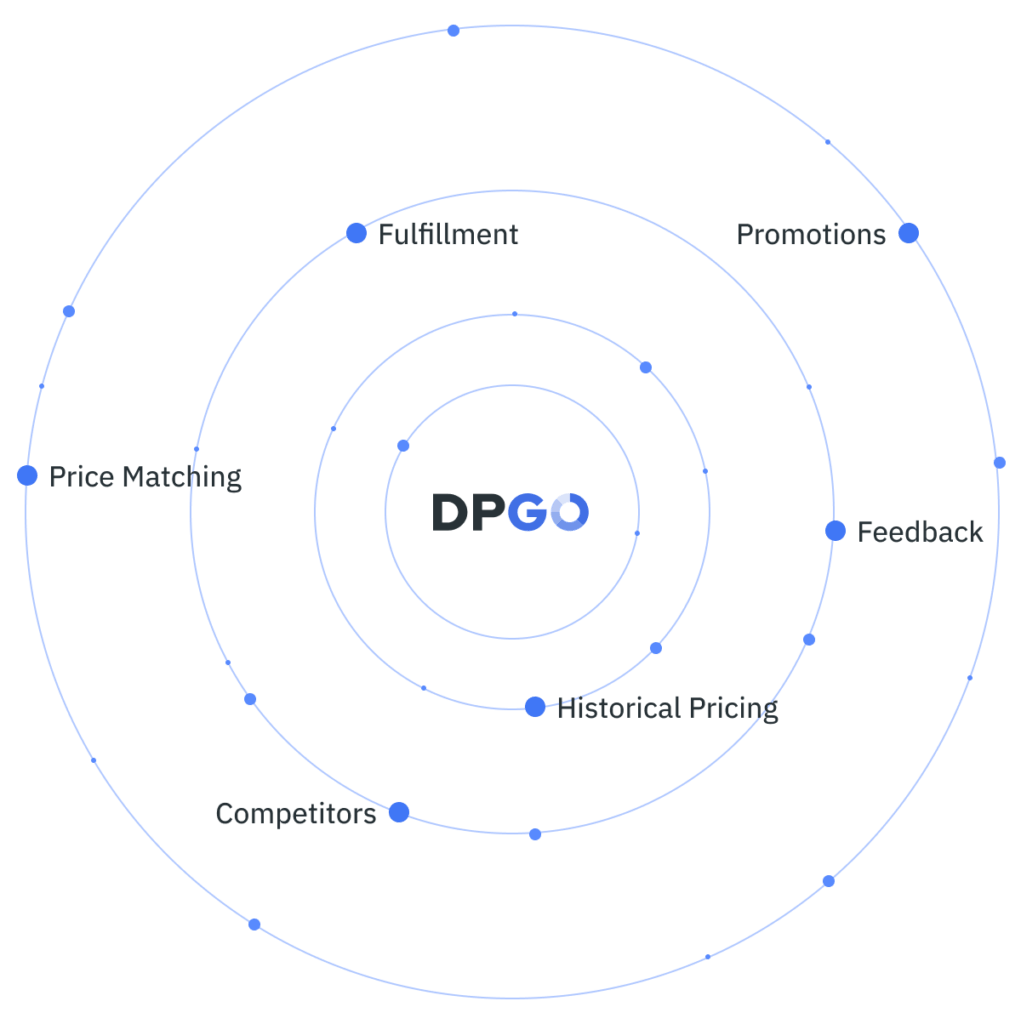 Personal Strategy
As Airbnb property investors ourselves, we know how important it is to maintain control of your listing. Without control, money can (and likely will) be left on the table for your competitors to pick up. We designed DPGO to include over 30 user input settings that allow you to keep hold of the finer details of your Airbnb pricing strategy, without having to physically oversee these variables on a daily or even weekly basis. Below, we'll go into greater detail on which pricing limits and rules you can set on DPGO.
Price
Our Airbnb Dynamic Pricing software allows you to enter a base price as well as maximum and minimum prices for your listing. Let's explain what each of these terms means:
Base Price: A base price is the amount of money that your listing costs, without any charges or additional costs added on. This is the foundation of your pricing strategy. It allows better reporting on the profitability of your short-term vacation rental business.
Maximum Price: Setting a maximum price tells the DPGO software that it cannot charge any amount above this limit that you have set. There are two streams of thought on maximum price. The first says 'why should I bother setting a maximum price when I could make more money?'. The second is more concerned with customers seeing drastic price changes. This might see them disconnect from the idea of booking your listing altogether. Setting a maximum price is purely your choice, and not required by DPGO.
Minimum Price: Minimum price is a little easier to understand. A minimum price means you will never have to honor a booking at a price lower than your break-even point. Airbnb listings are not free of cost and a minimum price will protect you from running at a loss.
We can work within your existing pricing framework to get you the best prices possible on the market. Being able to input these limits will contribute to the ultimate success of your short-term vacation rental business.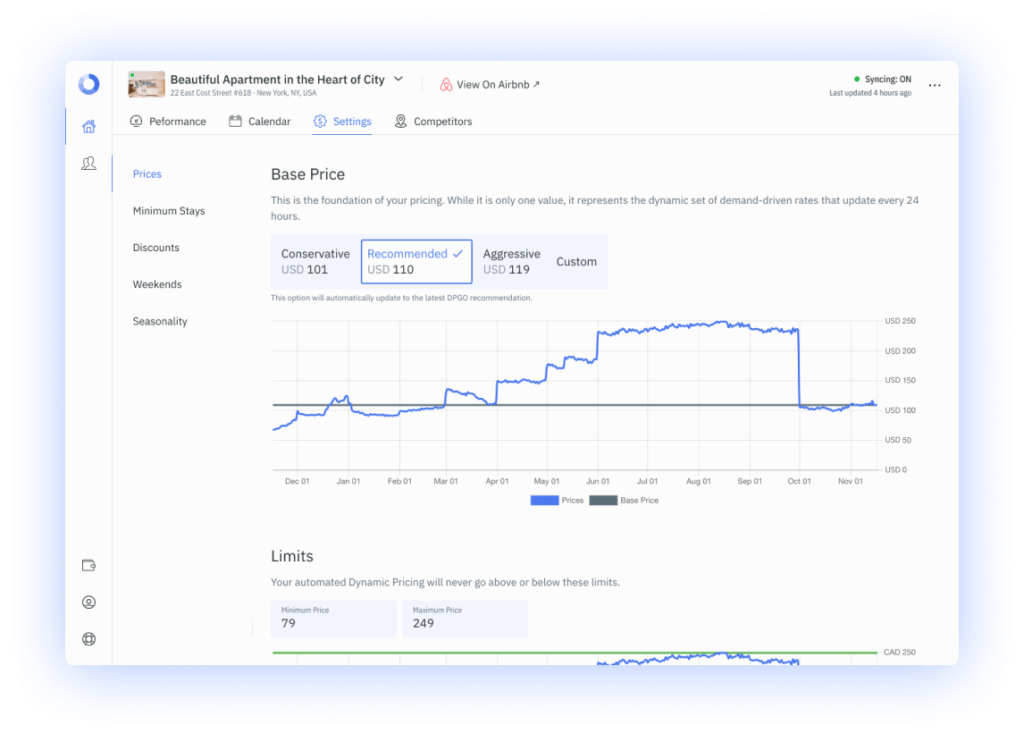 Your 'Discounts' section allows you to offer discounts based on the length of stay and the last-minute nature of the booking. To encourage last-minute bookings, it's a good idea to offer a percentage decrease. This may help ensure that those dates are booked. You can choose the percentage and the number of days. If you want to encourage weekend bookings, offer a discount if you haven't received any bookings by the Wednesday before.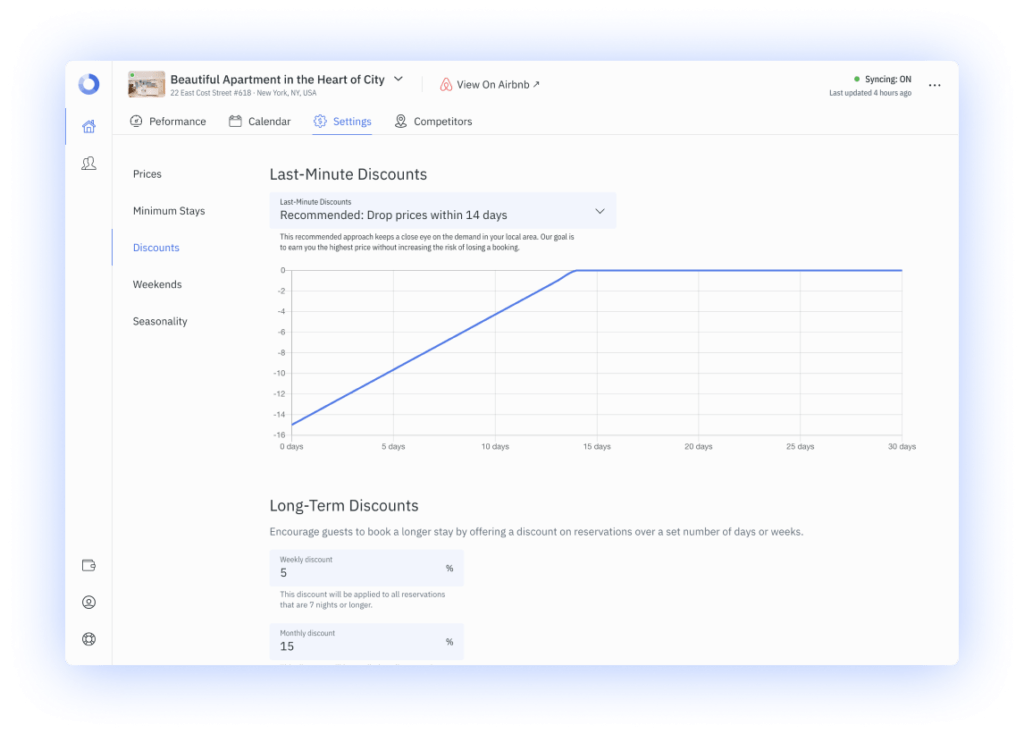 Setting a long-term discount allows you to offer a financial incentive for longer stays. Set a percentage discount that you are comfortable with for stays that run over more than a week (seven nights) and over more than one month (28 nights). The percentage discount you offer is completely your choice.
Weekends
There are four approaches that you can take to weekend pricing:
Recommended: Demand-driven pricing
Aggressive: Higher prices than data would recommend
Conservation: Lower prices than data would recommend
Custom: You set the percentage of price increase for weekends yourself
Setting weekend adjustments allows you to maximize earnings during the historically busier times of the week. This approach is common with big hotel chains too. Most informed Airbnb and other short-term vacation rental hosts will understand that increasing prices for busier periods makes total sense.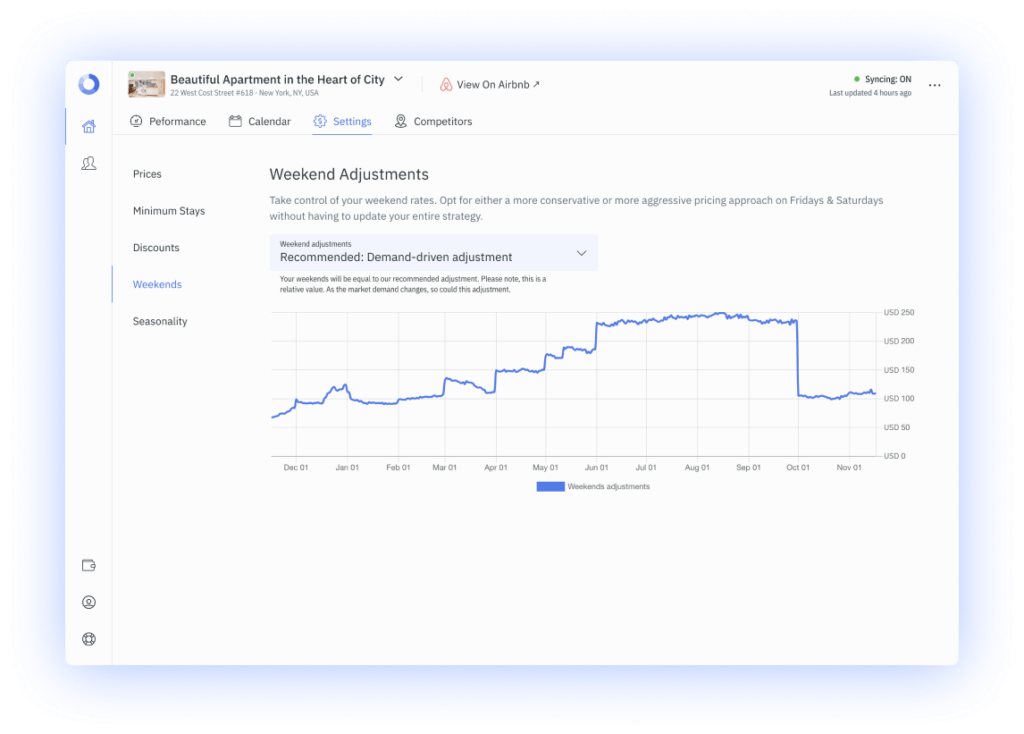 Finally, the 'Seasonality' tab allows you to take a more active role in determining your seasonal price adjustments. This section allows you to adjust your prices per month, based on your base price. This will not mean you need to change your pricing strategy. If you know that your peak season is June to August, make sure your seasonal adjustments reflect this insight.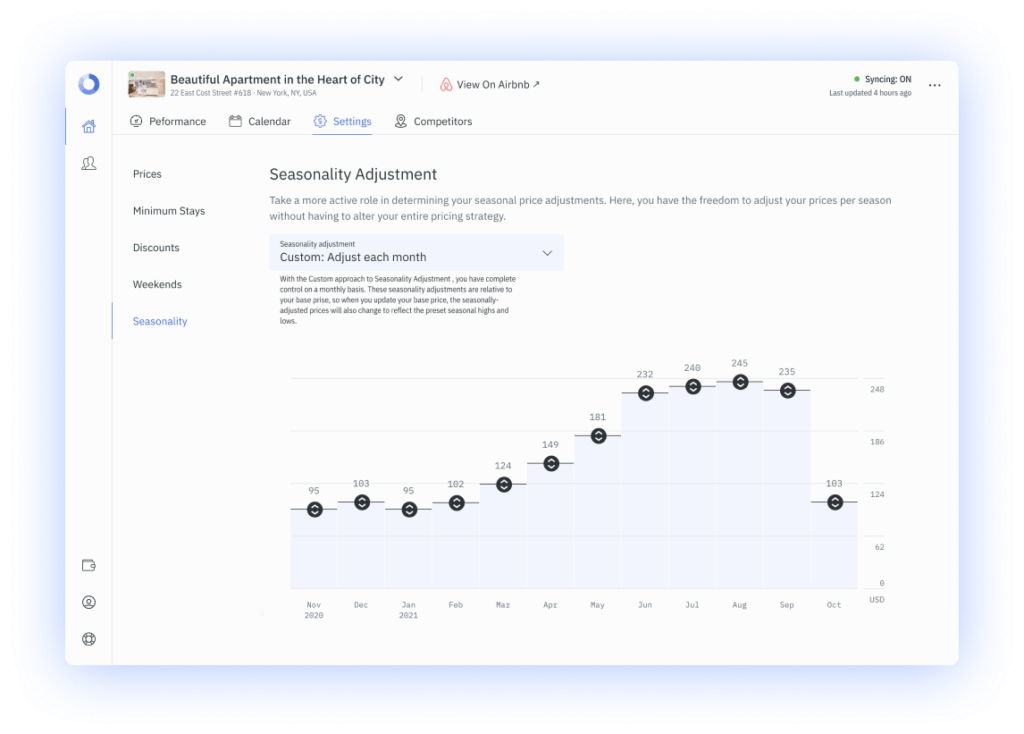 The 'Seasonality' tab is based on the same principle that underpins DPGO – we want to make sure that your pricing enables you to collect as much in earnings from your Airbnb listings as possible. By optimizing your seasonal Airbnb pricing, you're giving our Airbnb Dynamic Pricing software the added insights it needs to perfect its pricing approach for your property.
Real-Time Market Data
One of the greatest challenges of attempting dynamic pricing without the help of specially designed software is that your price adjustments may not be done at the optimal time to maximize your booking potential. In fact, enjoying market-sensitive updates is one of the greatest benefits of using an Airbnb Dynamic Pricing software tool.
Our software runs, depends, and relies on data to make decisions. If the bookings in your locale spike for a specific period, the software will automatically update your prices to ensure that you get the booking for the maximum price possible.
If you attempt to manage this process on your own, you won't be privy to booking spikes and therefore won't know to update your prices in the first place. Will you still get a booking for those specific dates? Possibly, but you certainly won't get as high a rate for that booking and you risk not winning a booking at all if your prices are drastically out of touch with the market.
The instantaneous nature of these updates means your DPGO software does not require any action from you to optimize earnings. You simply decide your pricing rules when you complete your initial set-up process and can then leave us to manage your pricing decisions.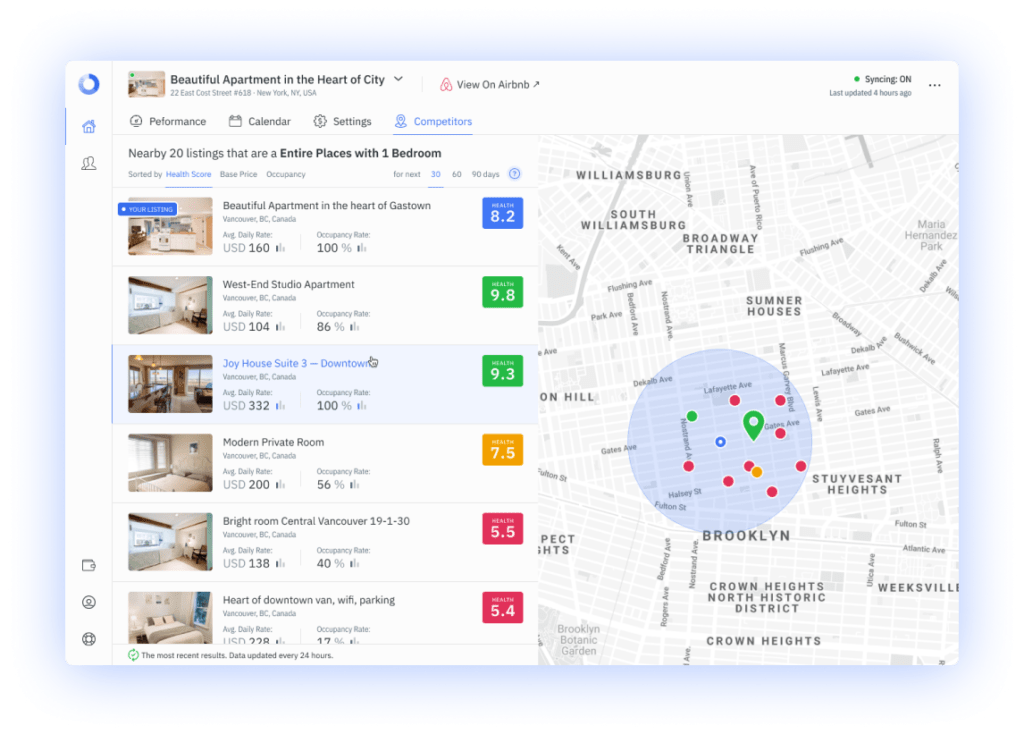 Flexible Adjustments on DPGO Dynamic Pricing Software
DPGO combines the best features of a dynamic pricing strategy with those of property management software. Not only can we optimize your pricing decisions, but we can set booking rules that will allow you to manage your Airbnb listing from your DPGO interface. Let's take a look at the booking rules that you can set via DPGO to ensure that your occupancy rates run at as close to the maximum as possible.
Minimum Stays
This is where you can set booking rules around the minimum number of nights that you require in order to accept a booking. There are four subsections to this page: General Minimum Stays, Day of the Week Minimum Stay, Time-Based Rules, and Date-Specific Rules. The first allows you to set a global minimum night stay, which is ordinarily set at one.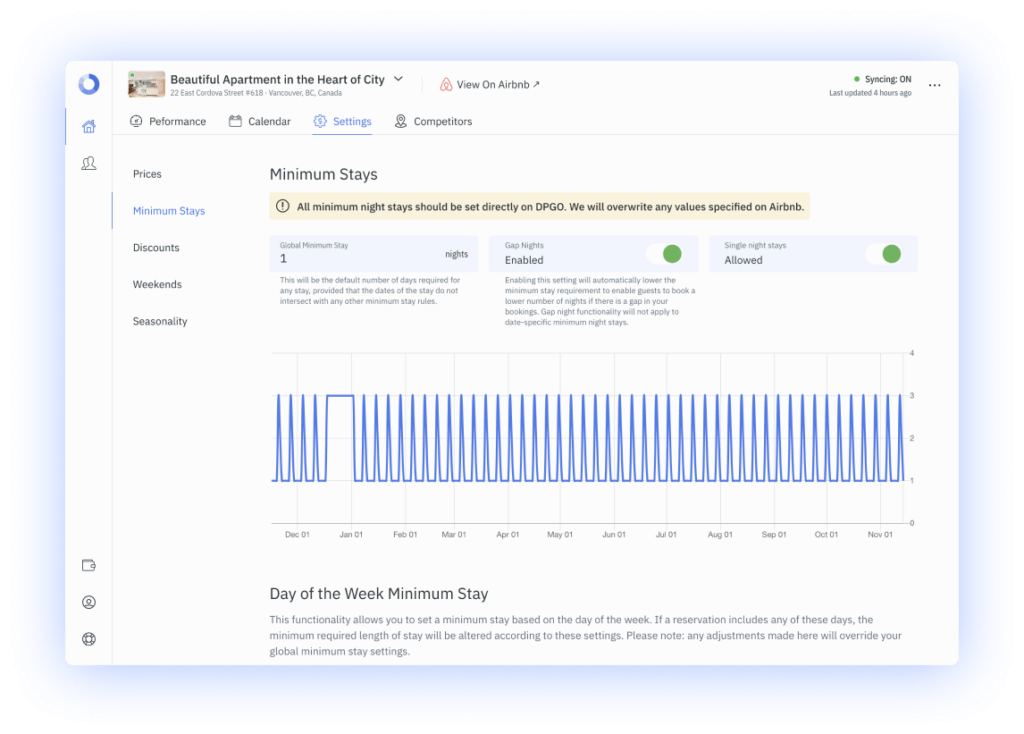 Day of the Week Minimum Stay
The 'Day of the Week Minimum Stay' section allows you to decide how many days you require to be booked in order to confirm a booking based solely on the day of the week. For example, many users set their minimum stay rules on Fridays to require at least three nights booked, or two nights booked on a Saturday. This will protect you against single-night bookings over prime booking periods, like weekends.
Time-Based Rules
The 'Time-Based Rules' section allows you to set minimum night stay rules based on the time that will elapse between booking and check-in. You can decide to set a rule that requires a minimum of two nights' stay if the booking is confirmed within a week, for example. Or you can even require bookings far in advance to stay over three days in order to protect yourself from an empty booking calendar.
Date-Specific Rules
The 'Date-Specific Rules' allow you to set minimum night stays for specific periods in the year, like long weekends or global holidays. Setting a rule here will protect you from the risk of running an empty calendar over your peak booking season.
Yield Management
We wanted to create the most holistic Airbnb pricing software for short-term vacation rentals available on the market today and to do that, we included aspects of various strategies in order to create the most advanced, data-driven software platform possible.
One such pricing strategy that we took inspiration from was yield management, which is a variable pricing strategy. It's based on understanding, influencing, and predicting customer behavior in order to maximize financial returns. We incorporated this approach to pricing by developing our deep learning technology.
Not only does our DPGO Airbnb Dynamic Pricing software alter your prices based on real-time data, but it also uses the deep learning technology that we developed to better predict customer behavior and keep your listing ahead of the market curve. With every piece of data that DPGO reviews, it learns more about the behaviors of your market and uses those insights to better inform pricing changes in the future.
Growth Performance
One of our favorite features of DPGO is its advanced charting and reporting capabilities. Data can be hard to debunk, but with our help, you can ascertain quickly and easily if your pricing limits are working correctly and if you have chosen the optimal pricing strategy from our four options: recommended, more aggressive, more conservative, and custom. We offer six charting models that can display every aspect of your use of a dynamic pricing strategy and gives you greater insight into how you can further optimize your revenue.
Our Growth Performance capabilities include a listing health score to help you better understand the performance of your list vacation rental property. Your health score is a measure of how frequently your listing is getting booked and helps you determine whether you need to change your approach. It gives you a quick view of how well your listing is attracting bookings in a set booking window of 30 or 90 days.
A health score of 7.0 or higher is great, but one under that needs some fine-tuning. If your booking rates are too high, it's likely that your listing is underpriced. If you have too few bookings, it is likely that your listing is overpriced.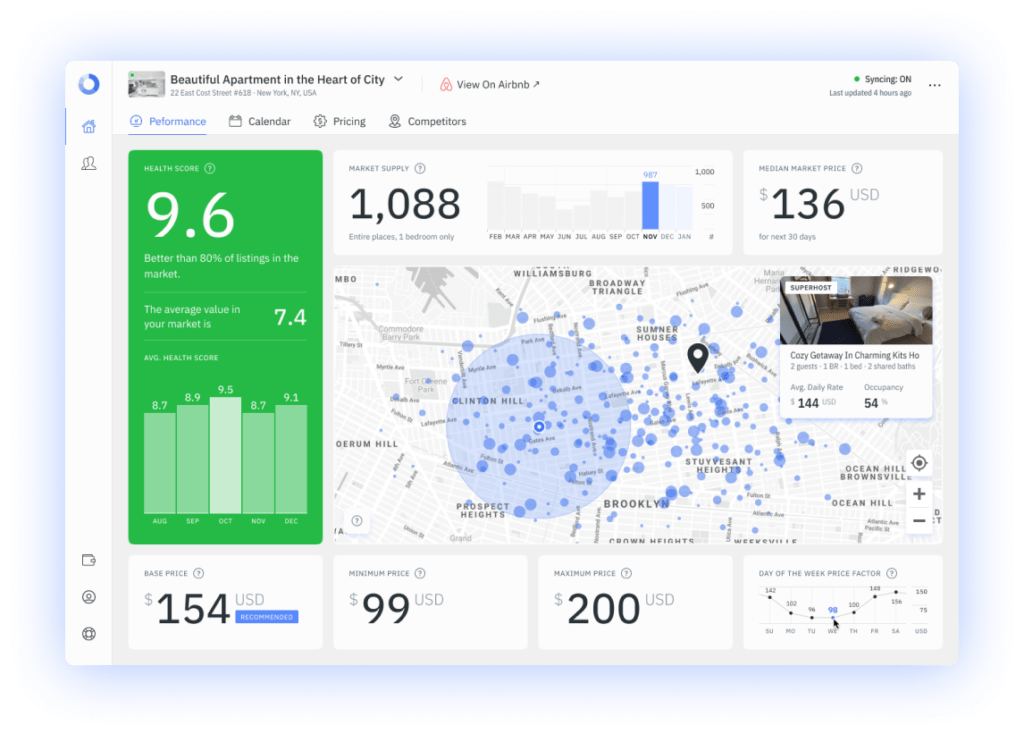 Airbnb Dynamic Pricing Predictions & Calendar
We also forecast 52-week pricing predictions on your listing's DPGO calendar to give you a better view of your annual booking rates. Having this data so clearly stated helps you make informed decisions on whether your Airbnb pricing strategy is working for you and your business goals.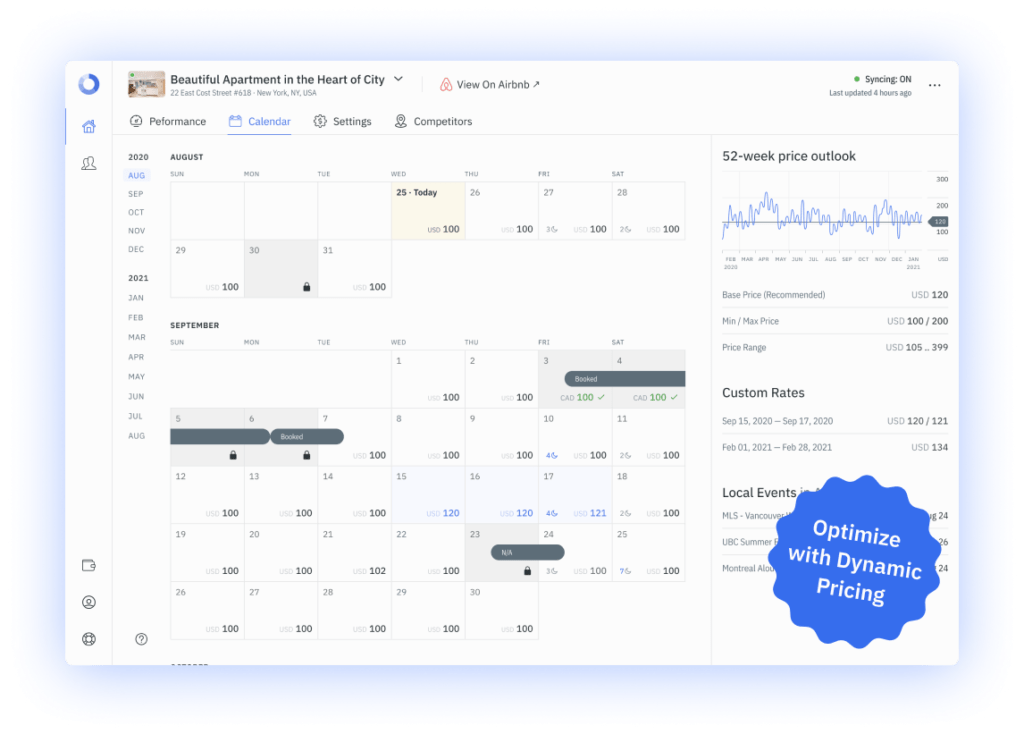 In conclusion, we designed DPGO to give users full control of their pricing, while providing AI-driven, deep learning enriched information to help you better understand your listing's booking trends.
To start your journey with DPGO, the most advanced Airbnb Dynamic Pricing software on the market, visit our website – www.dpgo.com – and claim your 30-day free trial!