COMPLETE COMPARISON
DPGO vs Beyond
Let's dive into the details of each pricing software, draw a comparison between them, and you can decide for yourself!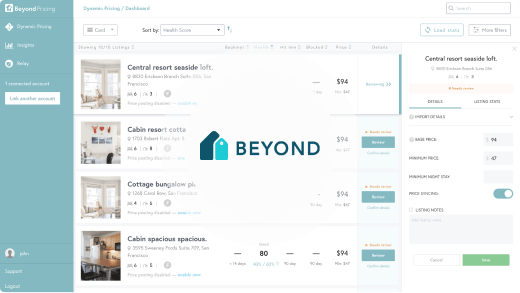 Beyond is a revenue management solution for short-term rental managers and owners to get, grow, and keep revenue. Their platform includes a dynamic, demand-driven pricing tool with extensive market data that pairs with OTA distribution and a booking engine.
Features
The differences and similarities in the features of the compared products.
AI-Driven Dynamic Pricing


Predefined Pricing Strategies








Date Availability Management












Local Data (Neighborhood) Analysis



Setting a List of Competitors






Support & Updates
Help channels for customers and notifications about product news and innovations.











Reviews
What do people say?





Samuel T.
Team Lead, Real Estate, 11-50 employees

"Great software — super easy to integrate and very powerful with lots of options. Its been a great solution for our team."
⭐ ⭐ ⭐ ⭐ ⭐ 5.0


Kelsey Miller
United States
"A very impressive tool, really useful during this difficult period. I'm planning to continue using it as long as it helps me in getting better revenue. Good communication from a customer support agent. Highly recommended!"
⭐ ⭐ ⭐ ⭐ ⭐ 5.0


Melissa D.
Property Manager, Hospitality, 1-10 employees
"Good experience good customer service, I am globally satisfied with this service."
⭐ ⭐ ⭐ ⭐ 4.0

There's always an alternative
Copyright © DPGO Software Inc. All rights reserved.