Analyzing Airbnb data is not easy. We are big data experts, and we know firsthand how complicated Airbnb analytics can be. And that's why we're here to help!
Our data experts have been hard at work crafting the latest DPGO offering: Markets. Whether you're a DPGO user or not, you can head over to our homepage for a selection of free insights. These insights are specific to your local market. 
The biggest challenge that we hear about from Airbnb hosts is the lack of access to key Airbnb data and using it to increase occupancy rates. A large percentage of our hosts complained of the inability to properly critique Airbnb analytics. To solve this problem, we built DPGO Markets to offer Airbnb data for free!
By targeting main Airbnb rental hubs across the US and Canada, we've laid the groundwork for better Airbnb data analysis by hosts, whether they use DPGO or not. Of course, we've reserved some of the more complex data structures as user-only insights, but non-users can still access a whole range of critical data for Airbnb analysis.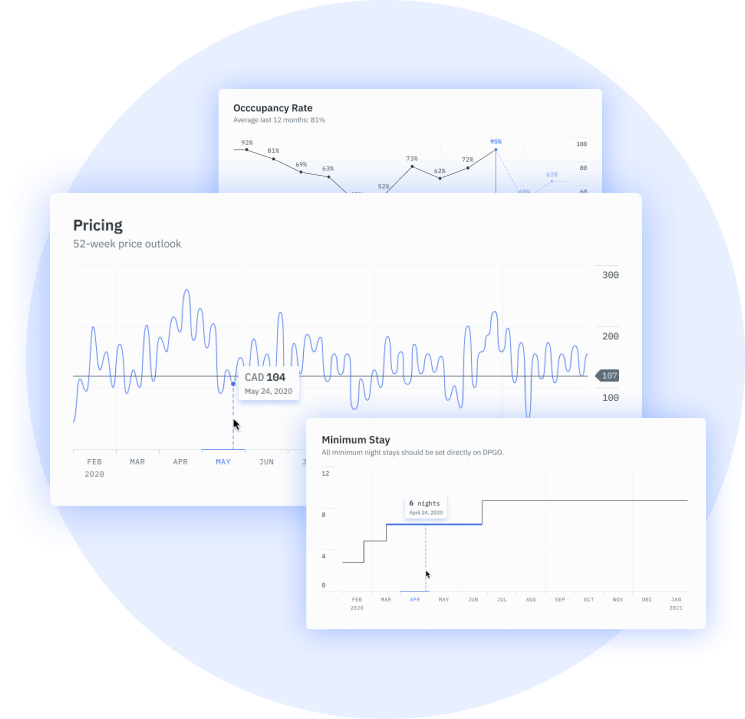 How Do I Work Markets by DPGO?
Let's start with the first step: entering your postcode or town name. At the time of writing this post, we cover over 600 markets in the US and Canada. Not a day goes by that Team DPGO is not working to increase that number. To stay updated, follow us on Facebook (@dpgo.software).
Once you've entered your town name or postcode, the website will take you to the Markets homepage for that specific county. We've also included a link to neighboring county homepages to help you get a better view of the surrounding areas. 
On this homepage, you'll find eight data blocks. The data blocks are all clearly labeled and the figures are displayed in the simplest, most logical way possible. 

What Does Markets Show Me?
The Markets area-specific homepages show you eight data blocks. More specifically, these data blocks show you:
Market Supply – the number of active listings in your area.
Average Daily Rate – the average rate from all the listings in your area.
Occupancy Rate – the average occupancy rate in your local market
Bookings – the total number of confirmed bookings in your area over the last 30 days.
Day of the Week Occupancy Rate – the average occupancy rate of your local market, broken down into daily percentages. 
Day of the Week Price Factor – the daily rate, broken down by day of the week, in your market from the last 28 days. 
Market Trends – this graph shows the 75th, 50th, and 25th percentile of your 52-week predicted average daily rate. 
Map – the map block shows you exactly where your competitor properties are located. 
How Can I Use the Airbnb Data in Markets?
These free market insights were designed to give you more information on the trends and booking surges in your local area. By knowing who your competitors are, you can better optimize your property to attract as many bookings as possible. 
Knowing exactly where these competitor listings are located also helps optimize your Airbnb earnings. Once you have a better understanding of your target market, you can begin to anticipate their wants and needs and compete directly with those listings closest to you to win those bookings. 
The Day of the Week Price Factor helps you identify when the listings in your market are increasing their prices, and when they are decreasing them. You can use this information to match their listing price fluctuations, while also offering a greater discount for your guests. 
If your occupancy rate does not match that of your greater local area, you have some work to do. It means your prices are probably too high, or your listing is not advanced with your target guest in mind. Somewhere along the line, you are missing the mark. 
The Average Daily Rate figure should match yours relatively closely. Unless, of course, your property is marketed to a totally different type of guest. However, this figure is not useless to you if your listing is unique in the market. Rather look at this as a benchmark by which you need to measure your own pricing index.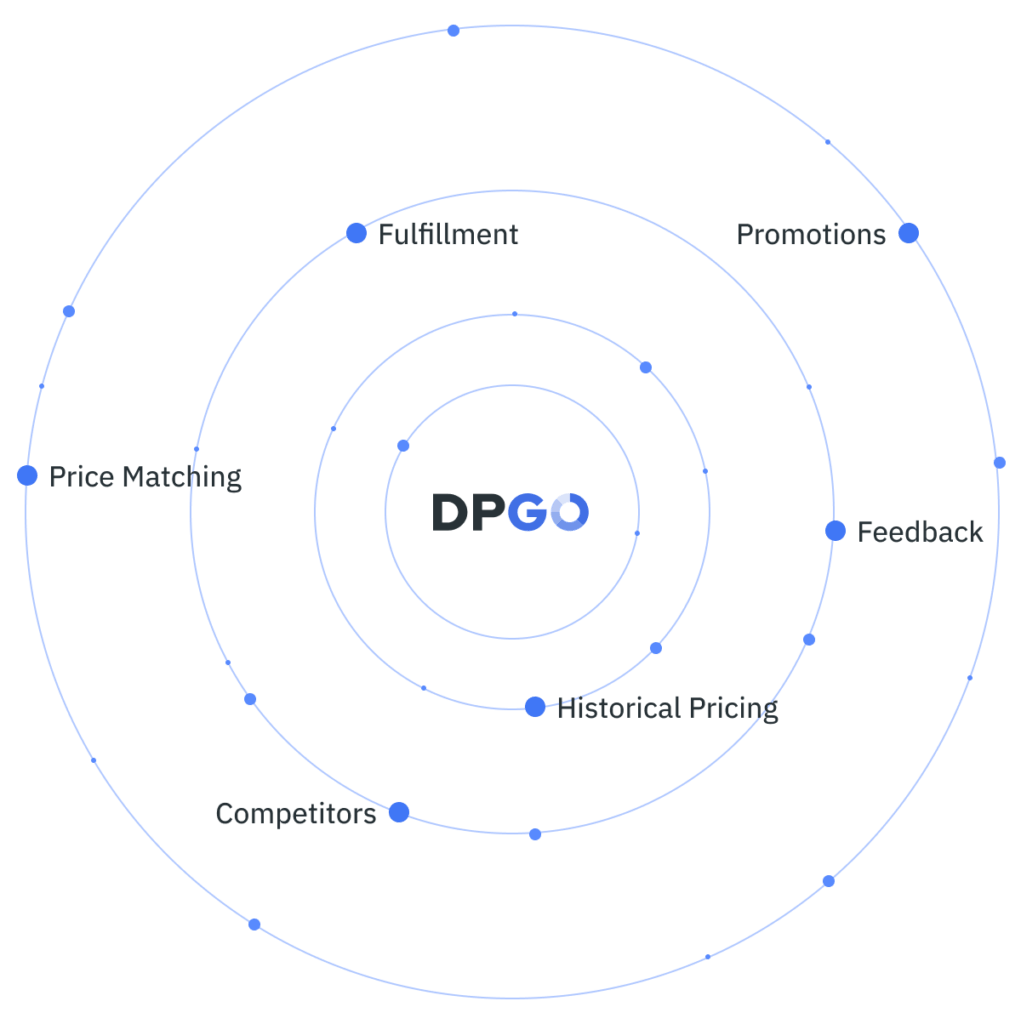 What Airbnb Data Does Markets Not Show Me?
We couldn't give away all the good stuff for free, so we decided to offer up a selection of the critical Airbnb data that we source. The insights on the free Markets page can and should be used to perfect your Airbnb approach. 
As you'll notice on the Markets homepage for your specific area, there are more data blocks, but access to these insights is reserved for DPGO users only. 
Namely, these insights include more in-depth competitor analysis, market revenue, Health Score (and how it relates to the average Health Score of your local market), average minimum price, average maximum price, and average base price. We also include insights into dynamic prices, historical prices, and pricing ranges, as well as market trends and live links to your competitor's Airbnb listing pages. We also included competitor Health Scores so you can see how your listing measures up to the rest of the local market. 
Airbnb data and analysis is our specialty. We put many long hours into developing Markets, and we hope that you can see the value that we can offer your Airbnb listing business.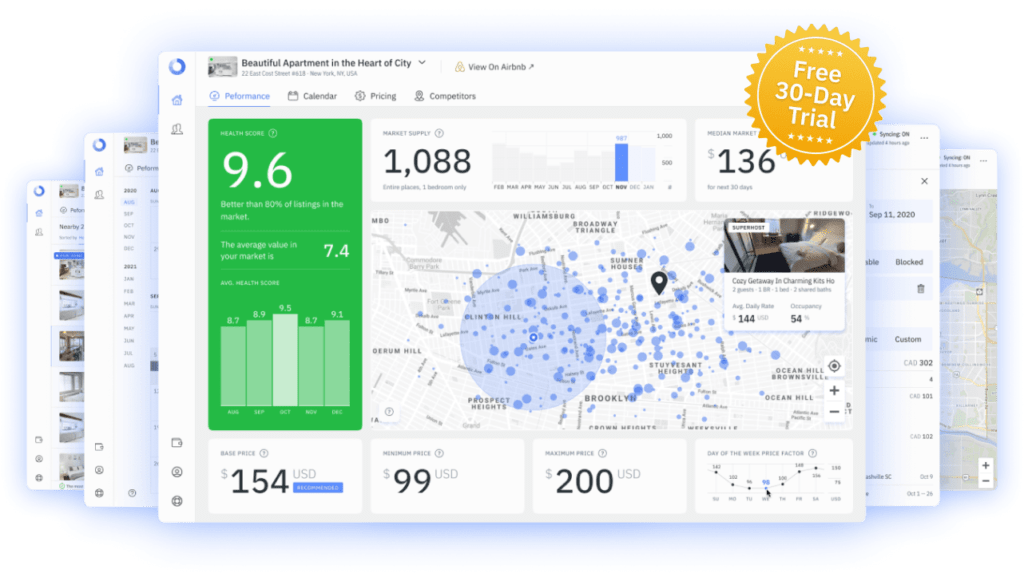 To learn more about DPGO, you can visit our website at www.dpgo.com, check us out on Facebook (@dpgo.software), or visit our YouTube channel for helpful tutorials and explanation videos. 
You can also contact us at any time if you need help or you'd like to ask us a few questions. We'd love to hear from you! You either email us at support@dpgo.com or join the Support Chat via our homepage.
Check out a few of our other posts! We recently did an explanation post on Travel Trends 2021, and another post on how to use them to increase your booking rates!