Cleaning fees have come into the spotlight since the outbreak of COVID. That scrutiny isn't showing signs of slowing down anytime soon. Hosts have often been accused of boosting their income by charging an inflated Airbnb cleaning fee. But once hygiene became a matter of life or death, hosts massively increased their cleanliness charges. Word travels fast when your cleaning standards are not up to scratch and your reviews will reflect this. 
All of this attention begs the question – what are people charging as an Airbnb cleaning fee? As local market experts, we have access to all sorts of data. We collected and analyzed the cleaning fees of every Airbnb property in North America. We then averaged out the results and created this market report. It should help you work out what you should be charging!
Average Airbnb Cleaning Fee – Canada
Airbnb cleaning fee figures vary drastically according to property type. Of course, guests renting a room in your house will not be willing to pay the same cleaning fee as if they had rented the entire property. We collected the data for all property types listed on Airbnb and divided them into four main categories: entire home, shared room, private room, and hotel room. We then divided the 'entire home' category into five subcategories: entire house, entire chalet, entire condominium, entire cottage, and entire apartment.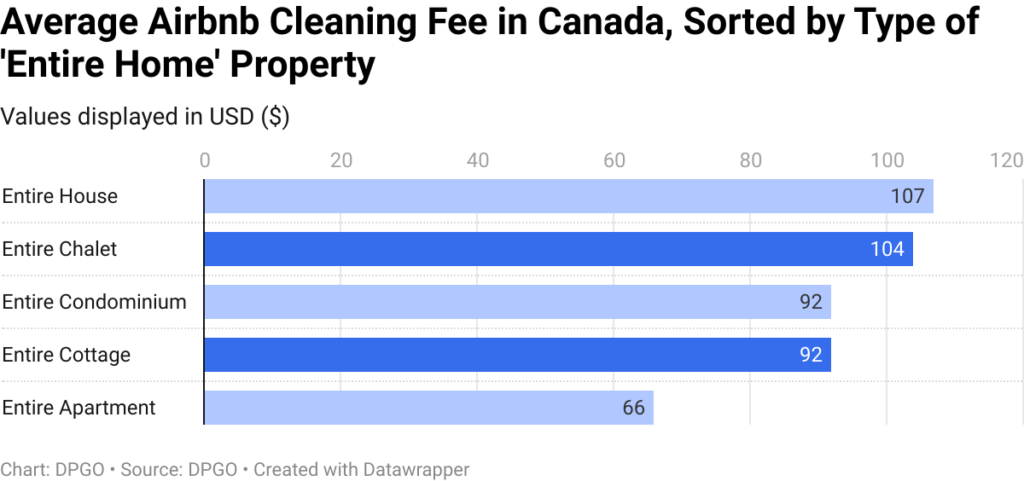 As you can see, hosts who rent out their entire home or chalet charge more. This works logically because the smaller the property, the easier and faster it is to clean. 
Of course, general figures can only carry you so far. These figures do not take the level of luxury, or price of listing into account, which will also affect the Airbnb cleaning fee charged. The figures that we collected and analyzed, in this case, are simply meant to illustrate the greater market trends within cleaning fee patterns in Canada.
Average Airbnb Cleaning Fee – US
Unsurprisingly, average cleaning fees in the US are higher than their property equivalents in Canada. Generally speaking, the Airbnb listing prices are higher, so this is to be expected. 
In the graphs below, we did the same with the data as we did for Canada. The first graph shows you a breakdown of the average cleaning fees for properties in the following categories: entire home, shared room, private room, and hotel room. In the second graph, we dive into the 'entire home' category and discover the average cleaning fees for different property types available for 'entire home' rentals.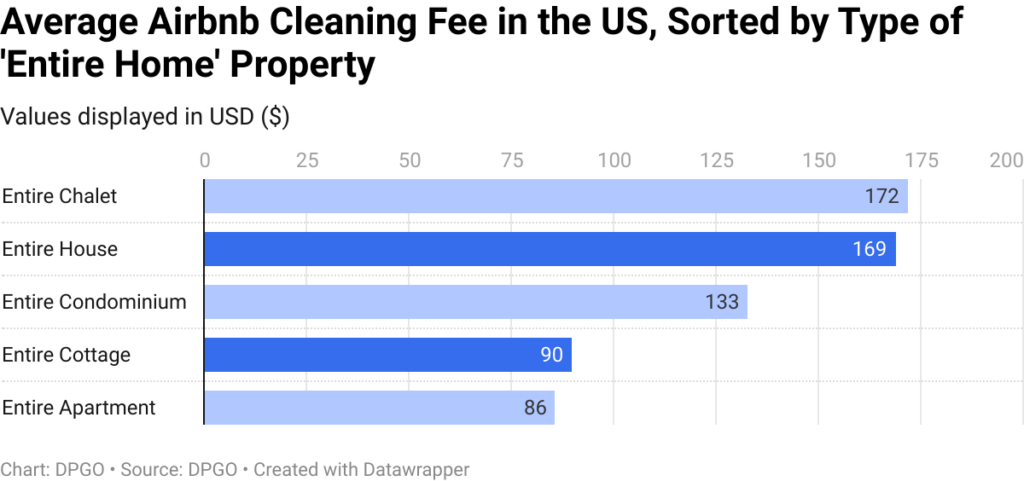 As in Canada, the highest cleaning fees were charged for entire house properties. In the US, it was for entire chalet properties. Again, these figures do not take property room count into account. Nor do they consider the average daily rate as a benchmark. 
For hosts that own and operate an apartment and list the entire space on Airbnb, our figure of $86 should help identify if you are charging too much, or too little. If you're charging just $10, it's a safe bet that you can increase your cleaning fee. If you are questioned about it, justify the cost by explaining that cleanliness standards in the wake of COVID demand more intensive cleaning with more expensive anti-bacterial products. Generally speaking, you won't have many people querying a cleaning fee, provided that it isn't extortionate. 
How Can DPGO Help?
If you're an Airbnb host looking to access vital Airbnb data insights, then DPGO is the perfect choice for you! Not only do we offer extensive market insights, but we also use that information to improve and optimize your pricing. To give DPGO a try, click on the banner above and register for an account. We'll give you 30-days to enjoy DPGO services for free. We also add credits to your account for every listing that you optimize with us. Got questions? Drop a mail to support@dpgo.com and a member of our Support Team will gladly assist you.