Revenue management – it's more complicated than it sounds. When an Airbnb host examines their balance sheet at the end of the month, they're too often faced with poor financial returns. 
In this post, we'll examine how you can improve your Airbnb revenue management skills.
What is Revenue Management?
In this context, revenue management is not actually the management of your business revenue. Confusing, right? In the hospitality industry, revenue management is more about predicting customer behavior. Similar to yield management, revenue management involves finding the right listing, for the right client, at the right time, for the right price. 
Revenue management requires the application of detailed analytics in order to optimize product availability and price to maximize general revenue growth. These analytics serve to better predict customer and market behavior to optimize sales and associated revenue. This approach can spark business growth, which is sustained over a longer period of time.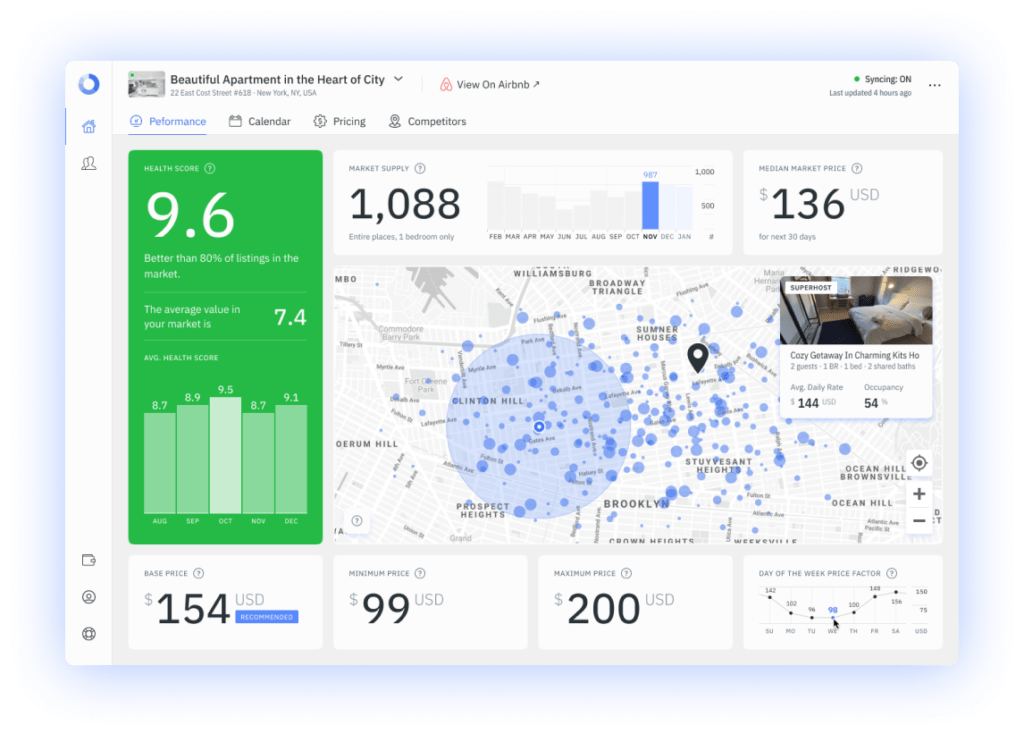 How Does Revenue Management Apply to Airbnb?
Airbnb may not function as a traditional hotel business structure, but it does demand price optimization. Airbnb users choose Airbnb over traditional hotel structures because they see the inherent value in the organization, and in the experience that it sells. This gives hosts a niche in which to operate. 
Any business can benefit from a decided revenue management strategy. It by no means only applies to businesses in the hospitality industry. 
Airbnb hosts need to understand revenue management and learn how to use it to their advantage. How does a regular Airbnb host gain access to the kind of insights that they need in order to perfect their revenue management strategy?
Steps to Better Revenue Management
Step 1: Optimize with Dynamic Pricing
The first step for any aspiring revenue manager is to optimize prices with a dynamic pricing tool. There are plenty on the market, but none are more comprehensive than DPGO. 
We offer our users in-depth insights into their local market. These insights include competitor data, market trends, booking rates, average price, the average length of stay, and more. 
As Big Data experts, we specialize in the collection and analysis of data. This helps us create incredibly accurate pricing strategies. By using the data we collect in a certain way, we've managed to work aspects of Yield Management into our pricing tool. Our users benefit from this enormously, as we are able to predict what their target audience will do. 
We also automatically update your prices on a daily basis to make sure that you never miss out on valuable income or a booking of any kind. This ensures that your listings are always kept in line with market booking trends, which leads to higher booking rates and generated income. 
In order to better your revenue management, using dynamic pricing will enable you to optimize prices for the trends in your local market. This is the first step in reaching the ideal revenue management strategy.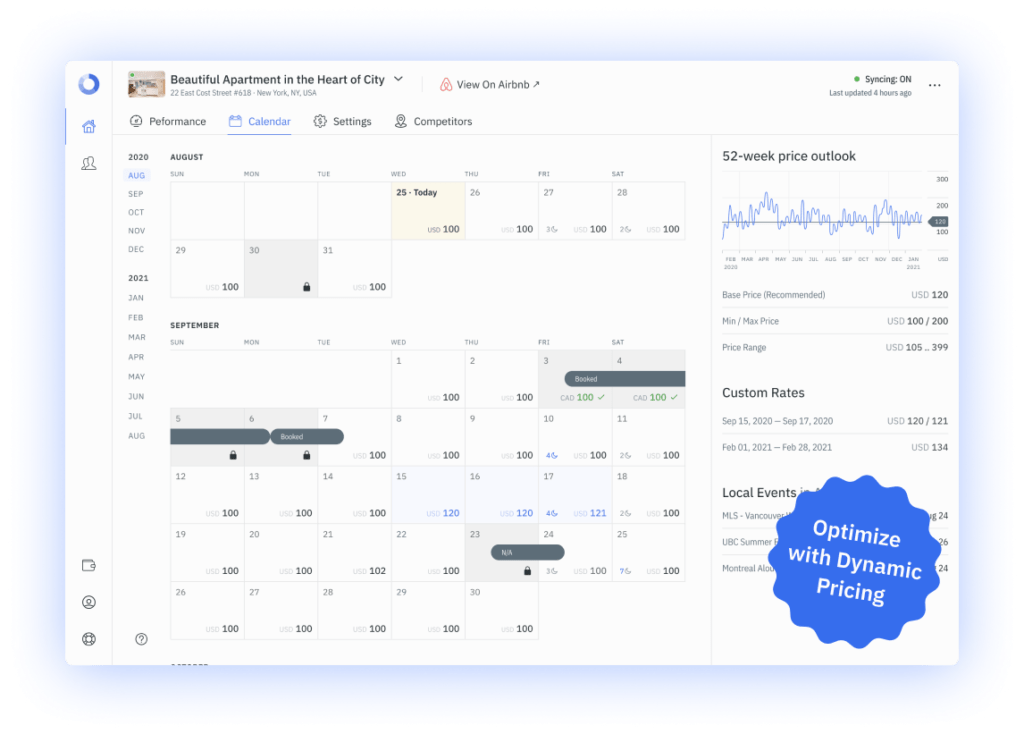 Step 2: Be Clear on Cost and Offer Discounts
As of November 2020, Airbnb now makes it much easier for hosts to view the end price that their customers will be paying. In Airbnb's own words, "we haven't made it easy enough for hosts to find the guest fee." This ambiguity made it difficult for hosts to see what their guest's total price was, and therefore couldn't market their listing efficiently.
Now that Airbnb has removed these hurdles, hosts can now focus on revenue management and optimize it by offering discounts, as they now feel comfortable enough to do so. 
Discounts are a great way to encourage business and when used strategically, can make your prices look irresistible to Airbnb users. 
The best thing about offering discounts on Airbnb is that the majority of them qualify for their merchandising options. With the exception of last-minute promotions, all other Airbnb discounts qualify for these special merchandising tags. If you offer a discount, your listing will be marked with a tag. These tags say "good price" or "new lower price" to attract more visitors to your listing profile. 
Revenue management is all about optimizing your understanding of your ideal customer profile and adapting your pricing structure to suit that profile. Offering discounts allow you to attract customers to your listing without losing out on money. After all, a discounted booking is better than no booking at all. 
DPGO users can also make use of a very helpful feature: Pricing. We allow users to choose their own discounts policy. We also allow them to enter pricing limits. This ensures that the price of their Airbnb listing never strays from within their pricing framework.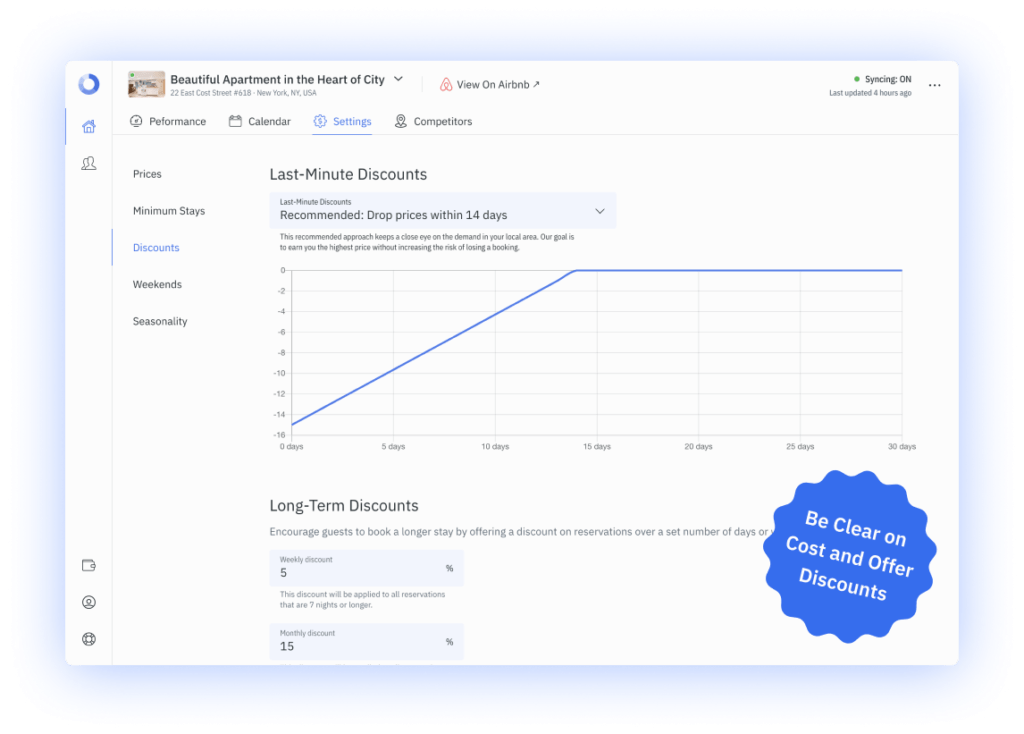 DPGO Pricing Strategies
DPGO users can set discounts with ease via the Discounts tab in their Dynamic Pricing Setting menu. For last-minute discounts, you can choose between four strategy options:
Recommended – Drop prices within 14 days of check-in by a market trend-determined percentage. 
Aggressive – Drop prices within 7 days of check-in by a market trend determined percentage. 
Conservative – Drop prices within 21 days of check-in by a market trend determined percentage. 
Custom – You determine the percentage discount, and the number of days before check-in that you want to offer this discount. 
Users can also set Long-Term discounts. There is an opportunity to enter your desired discount percentage for both weekly and monthly stays. 
Step 3: Offer Non-Refundable Pricing
In October of 2019, Airbnb launched a pilot program to check the effectiveness of an optional cancellation policy add-on. Instead of selecting a Strict cancellation policy, hosts can now choose Flexible or Moderate and offer a non-refundable booking that comes with a 10% discount. 
By giving guests this greater freedom, you'll be increasing your skill at revenue management. This option will generate greater interest, higher views, and hopefully, more bookings. 
According to an Airbnb press release, hosts who offered this 10% discount non-refundable booking option saw a 5% increase in revenue as a result. This is yet another way to perfect your approach to revenue management and attract the maximum number of bookings possible!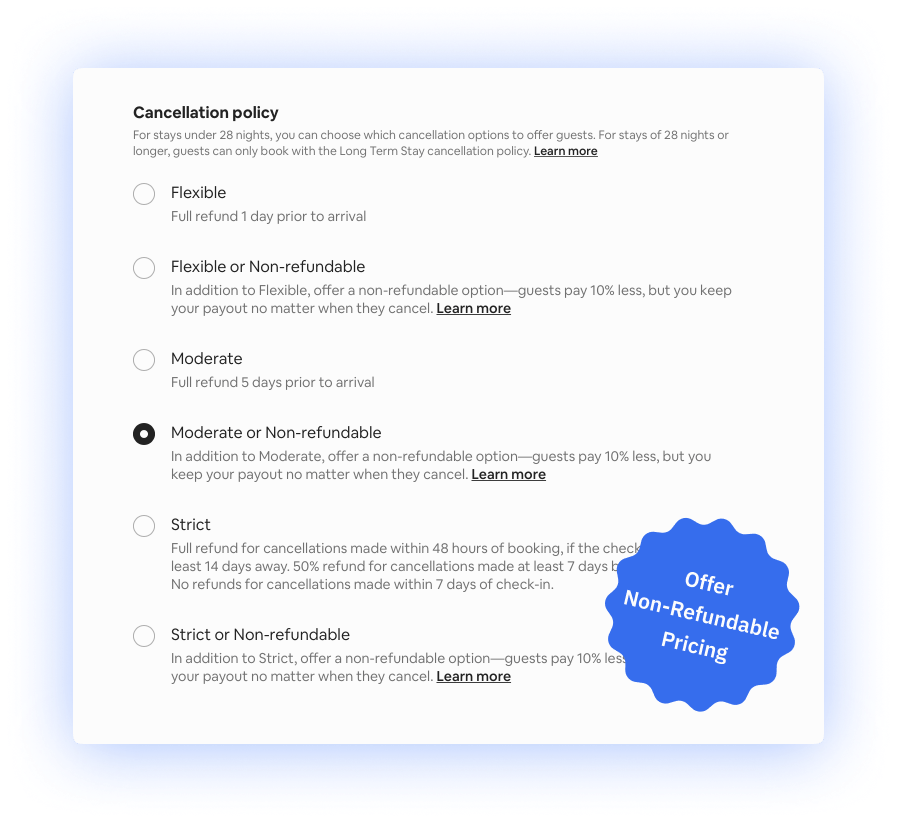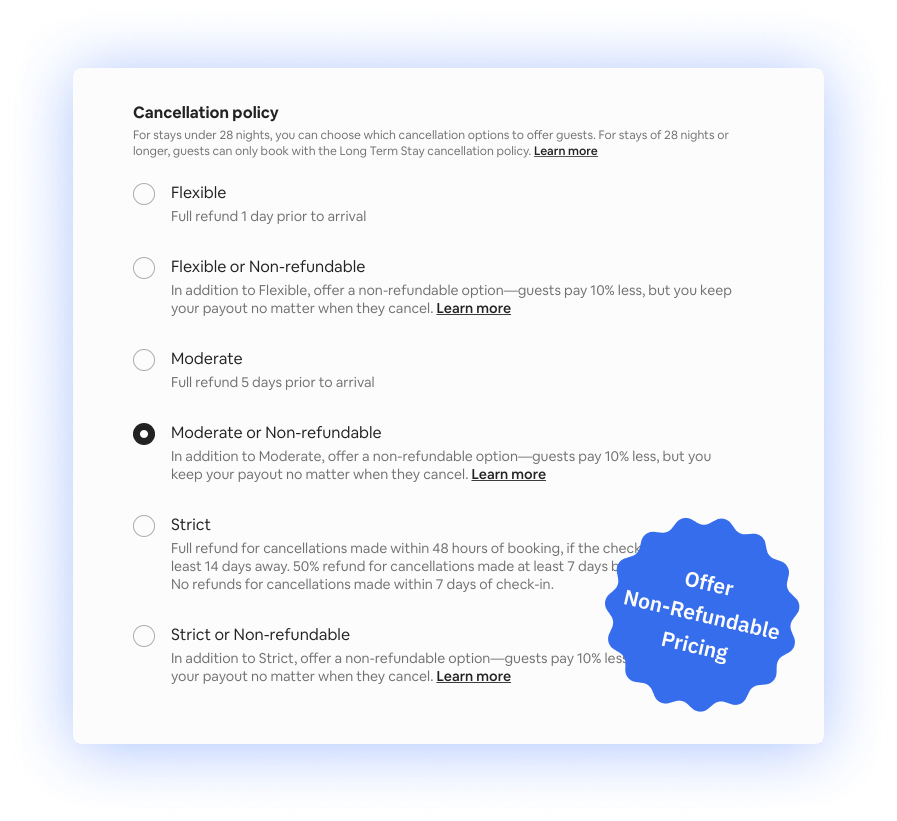 To sign up for dynamic pricing with DPGO, visit www.dpgo.com. We're so confident that you'll love DPGO that we're offering a free 30-day trial. 
Check out a few of our other posts! We've written a guide for Airbnb hosts on how to increase their occupancy rate throughout the year. You should also have a look at the Travel Trends for 2021!