The world of pricing is filled with pitfalls. Most hosts avoid one only to fall into another slightly later. It can quickly turn into a nightmare if you're not keeping your wits about you at all times. 
At DPGO, we are very aware of the importance of optimizing every single aspect of your pricing model. This includes smaller aspects like pricing for special dates and similar. We want to teach you how special Airbnb pricing for weekends and different seasons can make all the difference. 
Here's how to use special weekend and seasonal Airbnb pricing to boost your profitability and success:
Airbnb Pricing for Weekends
When discussing Airbnb pricing, Weekends are often overlooked. You'd be surprised how much of a difference weekend pricing can make to your monthly income. But how much of a price hike should you set for the weekends? 
The answer is hugely dependent on three core factors: your local market, the breakdown of your market's demand according to the day of the week, and the average daily rate (both on weekends and during the working week). To understand the data, you'll need to purchase Airbnb data from the various vendors on the market. Or you could sign up for a dynamic pricing engine. It might be tempting to go for the latter as the cost is a once-off deal. However, remember that this data is raw and offers the untrained eye very little help and guidance. 
Dynamic pricing engines however take this data offering to a new level with in-depth analysis as an accompaniment. The data is logically organized, analyzed, and displayed in the easiest-to-understand format. Concerning weekends, the optimization data can be displayed in a range of ways. This includes recommended percentage increases, recommended prices, and advisable strategies. At DPGO, we've opted for a strategic approach. We present our users with four choices on their 'Weekend Pricing' setting menu. They can choose from our three strategies, plus the option to set their own weekend price adjustments manually.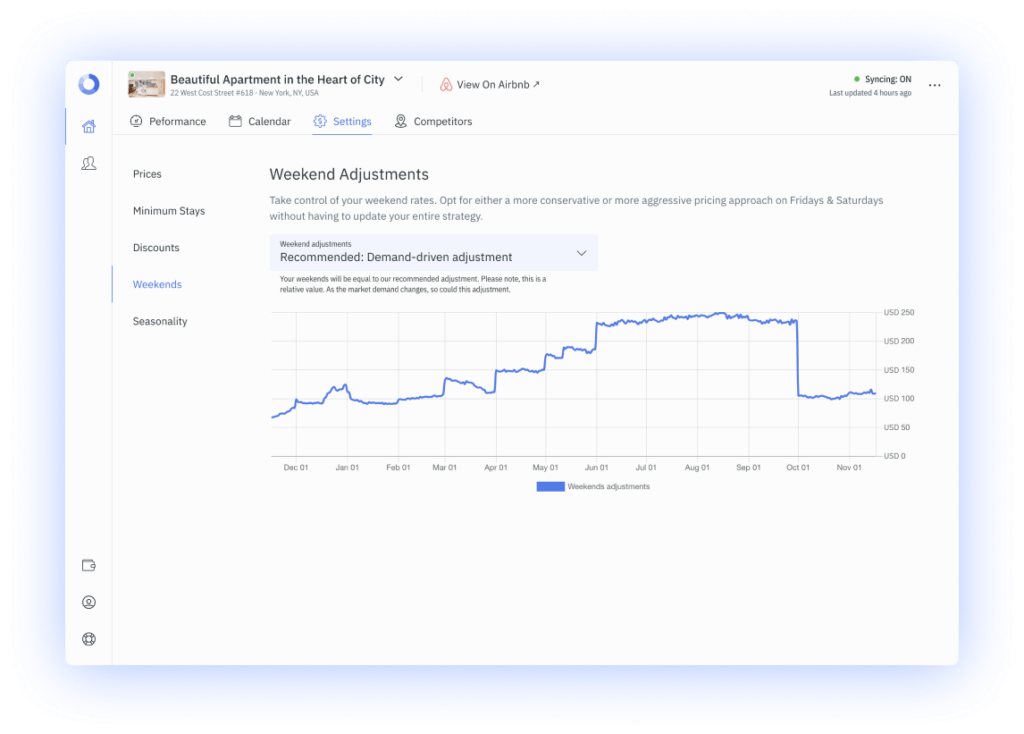 Weekend Pricing Continued…
We explained our strategies a few weeks ago in a dedicated blog feature. However, with weekend pricing, they differ ever so slightly. Our strategies towards weekend pricing are as follows:
Recommended: This strategy uses only market data to decide on the best weekend price shift in order to reach the overarching business goals that our uses set in Step 1 of the Account Set-Up process. Choosing this strategy means that the recommended shift will change each week as the value is relative. 
Conservative: Choosing this strategy for weekend adjustments means that we won't increase your pricing by the recommended number, but a lower, more conservative one. Hosts who choose this option are often concerned with ever-changing prices. They don't want to risk stark price inconsistencies from week to week. 
Aggressive: The 'Aggressive' strategy tells our pricing engine that you want it to increase your prices by more than the recommended amount. Of course, choosing this strategy doesn't mean our pricing engine will skyrocket your prices and blame your choice of strategy. Instead, we use the recommended pricing increase and increase it further while still aiming to secure as many bookings as possible. 
Now let's look at the 'Custom' option. Users who cannot choose between the three above strategies often opt to create their own. The weekend adjustments are decided on a percentage basis, which hosts can decide on and input directly into their DPGO User Interface. 
By increasing our pricing by just 5% on weekends, you should see an increase in overall annual profit of up to 24%. That's a pretty huge difference for such a small percentage change. If it doesn't make you motivated to shift your weekend pricing, then it really should…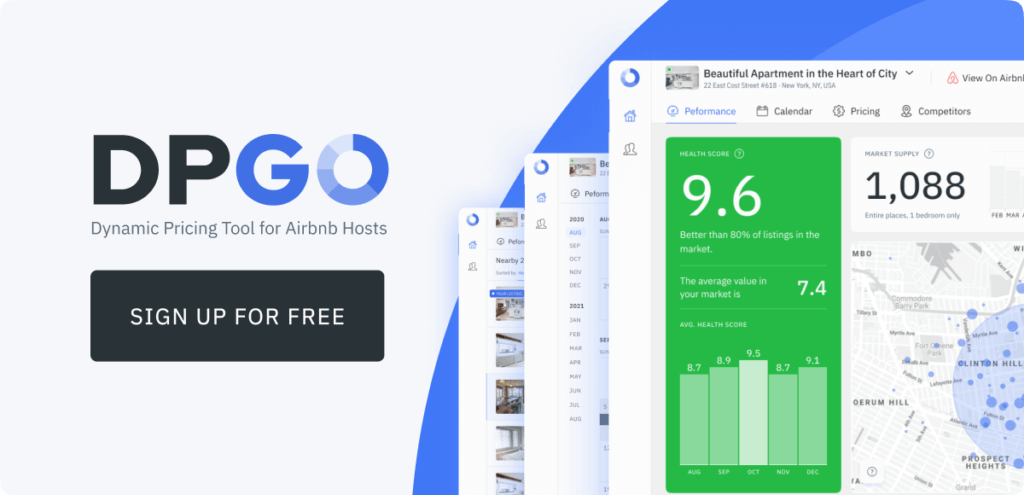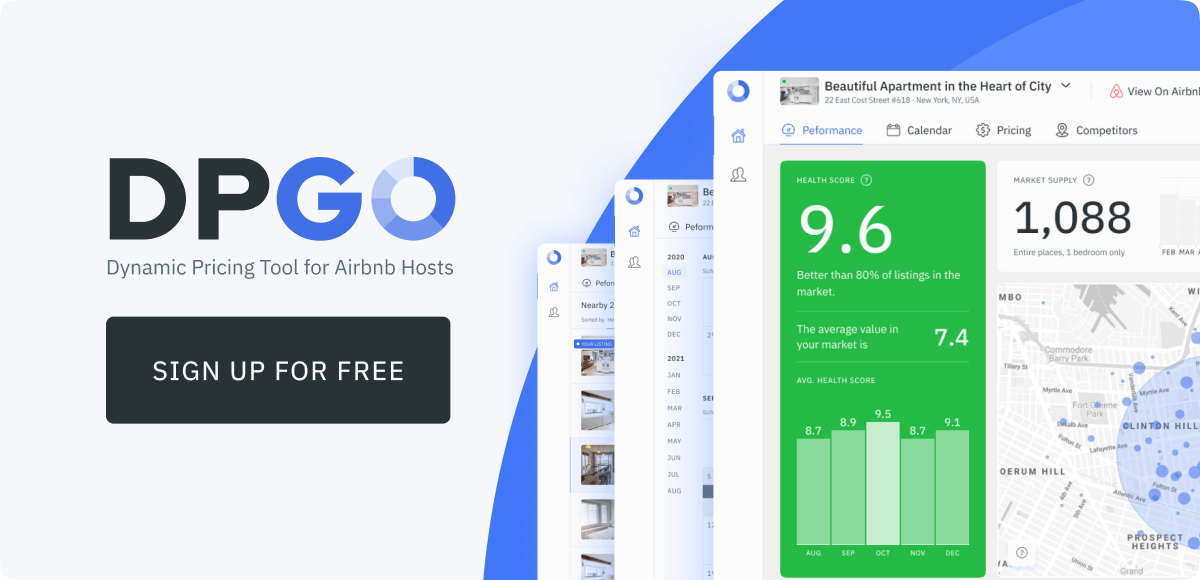 Airbnb Pricing for Seasonality
Seasonal adjustments are also pretty critical if you want to boost your income with optimized Airbnb pricing. You must be leaving huge amounts of money on the table if you're charging the same in the busier Summer season as you do in the quieter winter season. 
Seasonality is as critical to success as efficient general pricing strategies. These seasonal fluctuations also include dispensations for special holidays and date-specific busy periods like school term breaks or the days after public holidays. 
Being able to make seasonal adjustments months and months in advance is a big benefit for hosts. Having a price management system like a dynamic pricing engine gives hosts the ability to control their pricing on a more general scale. Of course, pricing engines like DPGO also offer hosts the opportunity to alter prices on a more detailed basis.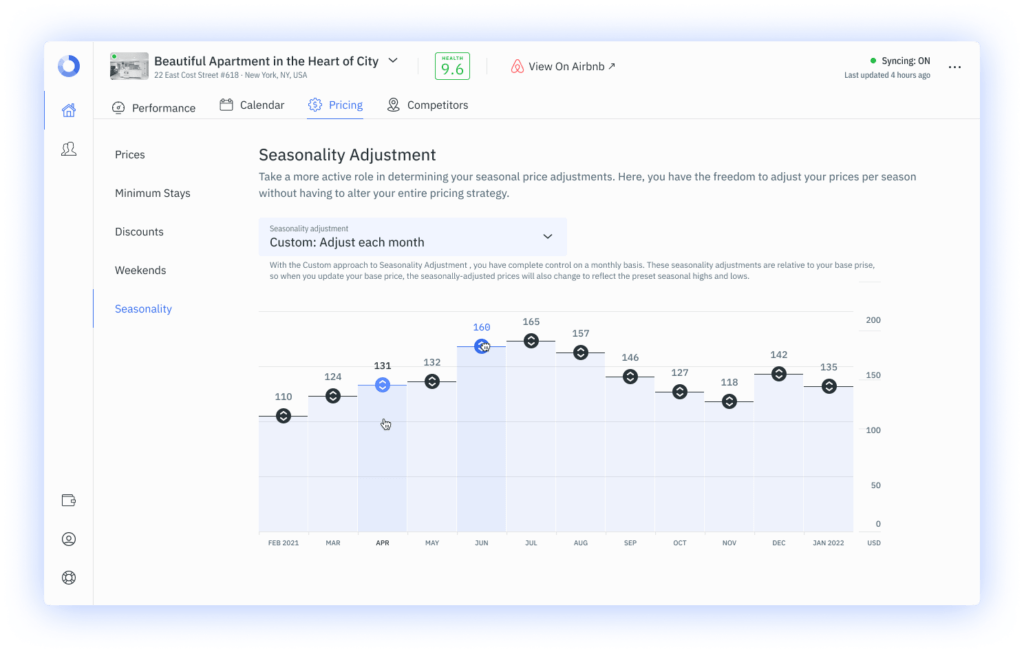 The DPGO Seasonality settings are displayed in relation to Base Price. Your Base Price will be displayed on the price graph under the 'Seasonality' setting tab. If your Base Price is $150, and in winter, you think you could increase this by 60%, simply increase the slider for that month to the desired price. 
By increasing prices for peak season, and lowering prices for quieter periods, you're giving yourself the best chance at securing a well-balanced year of short-term rental earnings. Of course, using dynamic pricing does the same thing, and we're on hand to offer you the best pricing engine available today!