If you're looking to boost your Airbnb occupancy rate with a clear pricing strategy, then our dynamic pricing tool is perfect for you! DPGO is ideal for every Airbnb host, no matter the size of their listing property portfolio. Whether you're managing one listing or one hundred listings, DPGO can help!
Our algorithm works with real-time market data to determine the best price for your listing. Our recommendations are specific to the given market environment at the time. Not only does this help vacation rental owners optimize their earnings, but it can also be used as an added tool for property managers and businesses.
In this post, we wanted to explore the suitability of the DPGO dynamic pricing tool for use by property management companies.
Multi-Listing Dynamic Pricing Tool
There is no limit to the number of listing you can manage under one DPGO profile. In fact, we have clients with over 3,000 listings! DPGO assists with automation, strategy, and reporting. Our dynamic pricing software takes the manual effort out of rental pricing.
Our pricing recommendations are based on a number of factors. These include the market environment, competitors, exchange rates, the pricing limits you set (like base price), and more. Our pricing solutions mean that property managers can set up a pricing framework and leave us to do the rest.
We are always available to help users with a large number of listings set up the pricing rules for each of their properties. And because this customization process can be laborious, we're on hand to help! For users with a smaller number of listings, setting up your pricing limits takes minutes. Plus, you only ever need to do it once!
We offer four pricing strategies: Recommended, More Conservative, More Aggressive, and Custom. You can choose different strategies for each of your client's listings, depending on their needs. Our Recommended strategy is unique to each listing and is created by analyzing expansive amounts of local market data. Our price recommendations give your listing the best chance of securing bookings. By making use of artificial intelligence and machine learning, we optimize your daily rates with competitive pricing!
DPGO Charting Capabilities
When you're managing the prices of multiple short-term rental properties, success reporting is important. Your clients will want to see your progress, and our charting capabilities will help you illustrate your progress!
Our DPGO Performance Dashboard features a range of easy-to-read graphs and charts. These charts illustrate a range of data from the average length of stay to historical data and pricing. We offer high functionality for multiple users via the user-friendly DPGO interface.
Dynamic Pricing Tool Health Score
By using our smart pricing solutions, your channel managers can keep track of a listing's process and improvement thanks to our health score capabilities. We generate a listing's health score by analyzing how well your listing booking out in a set period. Then we use that data to create a score out of 10. The higher the score, the healthier the listing! DPGO also allows you to keep track of your previous health scores, which helps you keep track of progress.
Our DPGO interface also shows you the average Health Score in your listing's local area. This is a great comparison tool and will help you understand how to further improve your property's performance! It gives you a real-time figure to take to your clients and illustrates how well your company is doing in managing their property.
Better Airbnb Revenue Management
We already did a post on revenue management, but we didn't really go into detail about how we can help property managers. Your clients want their listings to be a success. And while you manage the listing, we help you find the optimal prices to get as much for your clients as possible.
Our complex data metrics allow you to pinpoint why a listing is not succeeding in the way it should. Then our expert advice can help you fix it! Price optimization is a very specialized subject and only those with access to market data can truly optimize your prices.
In the rental industry, it's all about finding the right price. With DPGO, finding that price, securing that booking, and impressing that client has never been easier.
Short-Term Rental Seasonality
When you're managing multiple listings across multiple cities, the high season could be different for each one. But how are you supposed to manage seasonal price changes? Good thing you're a DPGO user! We designed a special seasonality function that allows you to change your pricing based on the month. And you can set this up months in advance. DPGO users will be given four options for seasonality adjustment strategies: Conservative, Aggressive, Custom, and Recommended.
By pricing more aggressively in your busier periods, you can secure more revenue. Similarly in historically quieter periods, offering more flexible rates will boost occupancy rates. This will increase a listing's annual profitability and make your clients very happy!
Once again, if you need help setting up seasonality adjustment settings, let us know and someone from our Support Team will be in touch to offer assistance.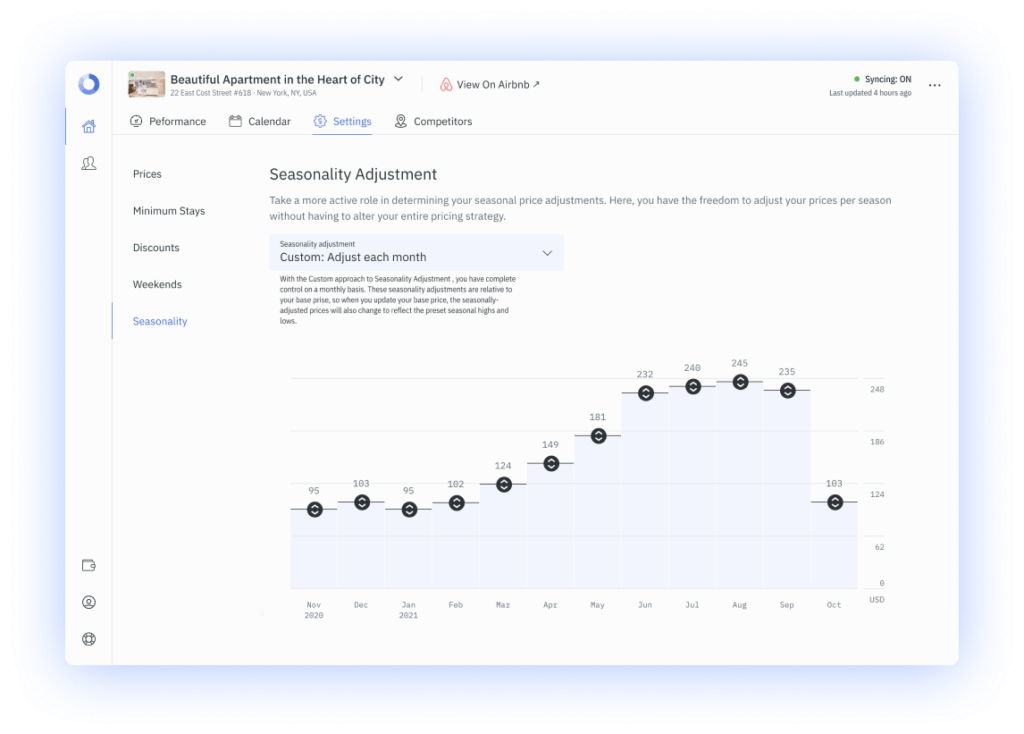 Last-Minute Discounts
Ideally, your listings are booked for the optimal price with the ideal length of stay, well in advance. But what should you do if you still have gaps in your calendars and the dates are fast approaching?
In order to sell as many dates in your calendar as possible, we created the automatic last-minute discount function. If you get within a set number of days before an unbooked date, you can set DPGO to offer a preset percentage discount in order to encourage a booking.
We will never advertise rates lower than your base price, so offering a discount simply secures a booking and scores you extra revenue when you might have missed out completely. As long as your Base Price is set correctly, offering a discount simply increases the likelihood of a booking. Yes, you are bringing in less money than you would at non-discounted prices, but any booking above your Base Price is better than no booking!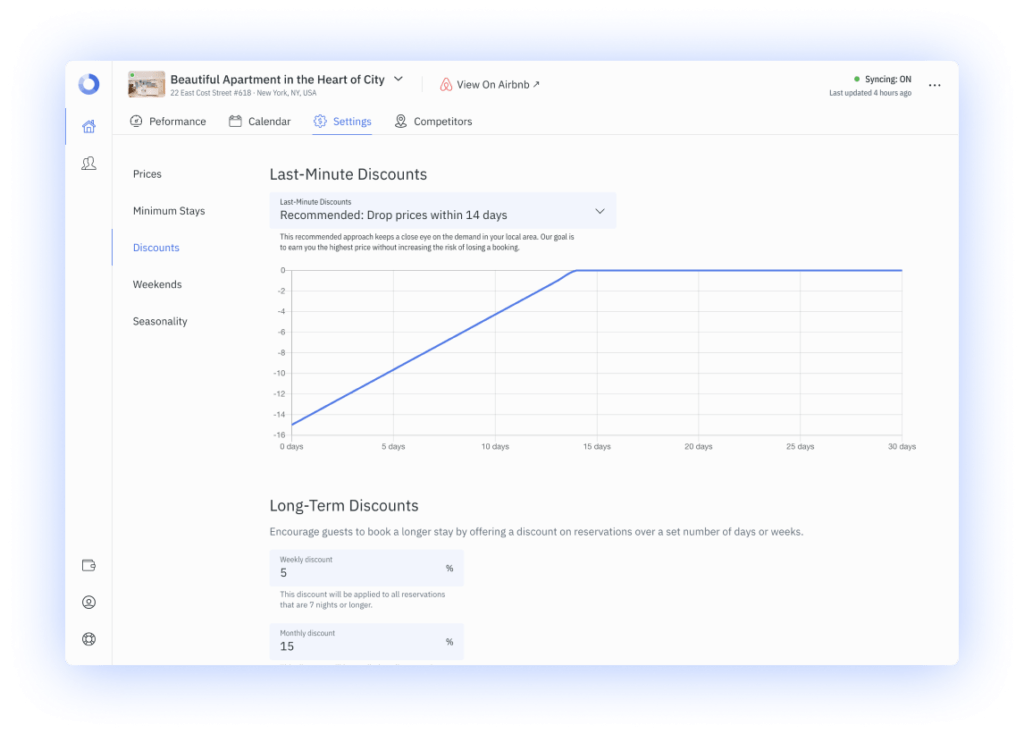 DPGO Integration Opportunities
If you'd like to explore the option of a DPGO integration with your property management systems, then you can contact us directly at info@dpgo.com.
If you'd like to try DPGO, then sign up for your free 30-day trial here. You don't need to register a credit card when you sign up and there are no hidden fees! If you decide that DPGO is not for you, cancel your profile at any time, for no cost whatsoever.
While you're here, why not take a look at a few of our other blog posts? Do you know which cancellation policy is right for you? Well, find out here! We also dived into the data on how to best price your listings during high season!