Finding help as a new STR host can sometimes feel really impossible. You'll certainly face plenty of unproven information sources claiming to be a foolproof guide to success. A large amount of research is the best way to learn, and we think we found just the right thing!
As creators of the platform, the team at Airbnb knows their stuff. We recently discovered that they have a really fantastic Airbnb YouTube channel! It's filled with cool videos, helpful guides, and awesome content for hosts who are looking to improve their listings. 
We talk about dynamic pricing a lot, but today we wanted to raise awareness about this great content and show you our favorite Airbnb help videos on their Youtube channel. We also included a little information on the services we offer, just in case you're interested!
Our Favorite Airbnb Help YouTube Videos
How to Set Up a Successful Listing
As a general guide, this 6-minute video is a great help! The video compiles lessons from real Airbnb hosts with years of experience in the industry. It covers the importance of photos, perfecting your listing details, setting the right price (we can help with that!), owning your calendar, and booking settings (again, we can help with that!). It goes on to show you how to stand out in Airbnb search results and advice on getting paid.
How to Make Guests Feel Special
In just 2 minutes and 30 seconds, this Airbnb help video shows you how to make your guests feel welcome in your home. Remember, it's the little things that stick in guests' minds. The video covers creating mini-escape areas, making it personal, adding plants, giving your guests a take-home gift, and using your amenities to create an experience. It continues on to show you how to make your listing feel like home to guests.
How to Attract 5-Star Reviews
Catherine and Bryan, an experienced Airbnb hosting couple, take you through their tips on getting 5-star reviews. Having hosted over 2,000 guests, they sure know what they're talking about! Sit down with a cup of coffee and make sure you write down some of these helpful suggestions. Remember: 5-star reviews are like Airbnb gold, you can never have enough!
How to Take Great Listing Photos
If you're not in a position to pay a professional, these ideas from Candida and Jack, Airbnb hosts from California, will set you on the right path to excellent photography! Some of the points they touch on include removing the clutter from your space, the importance of framing, how to use lighting to your advantage, and more!
How to Upgrade Your Interior Design
You don't have to be an interior designer to upgrade your listing's design aesthetic! Another pair of knowledgeable Airbnb hosts take you through a few simple and easy ways to spruce up your interior design. Great design aesthetics do not need to cost a fortune and these creative hints will help you take your listing to the next level.
How to Describe Your Space
Teresa and David, two Airbnb-hosting creative directors at two very successful advertising firms, share their know-how on how to describe your listing in the most evocative way possible. You don't need to be a professional writer, just follow their simple steps and get ready to welcome more guests into your home!
These Airbnb help videos are great to help you gain a better understanding of how to optimize your listing. Dynamic pricing is another great way to ensure your listing is bringing in as much money as possible, and we can help!
If You Want to Earn More with Dynamic Pricing, Try DPGO!
DPGO was founded by a group of Airbnb hosts and real estate investors who know more than a thing or two about the struggles of the STR business. We never managed to find a dynamic pricing tool that worked perfectly for us, so we designed one ourselves!
DPGO uses in-depth data analysis to determine the best price for your listing in any given market environment. We also automate the process and create detailed reports so you can see how well your property is doing! Users can enter their own pricing rules, minimum stay requirements, discounts, and seasonal adjustments, and DPGO will do all the hard work! 
Stay competitive 24/7, 365, and say goodbye to manual pricing updates forever! Sign up for your free 30-day DPGO trial here. We can't wait for you to join us!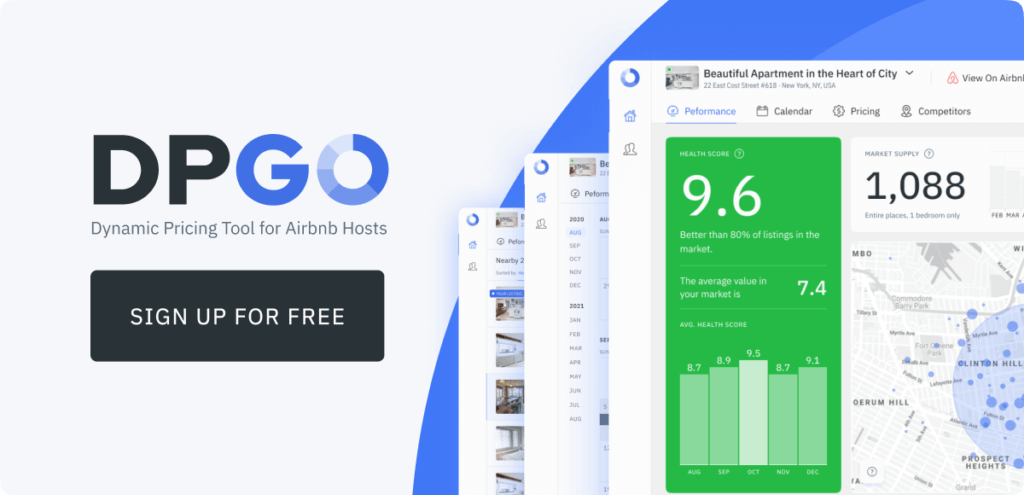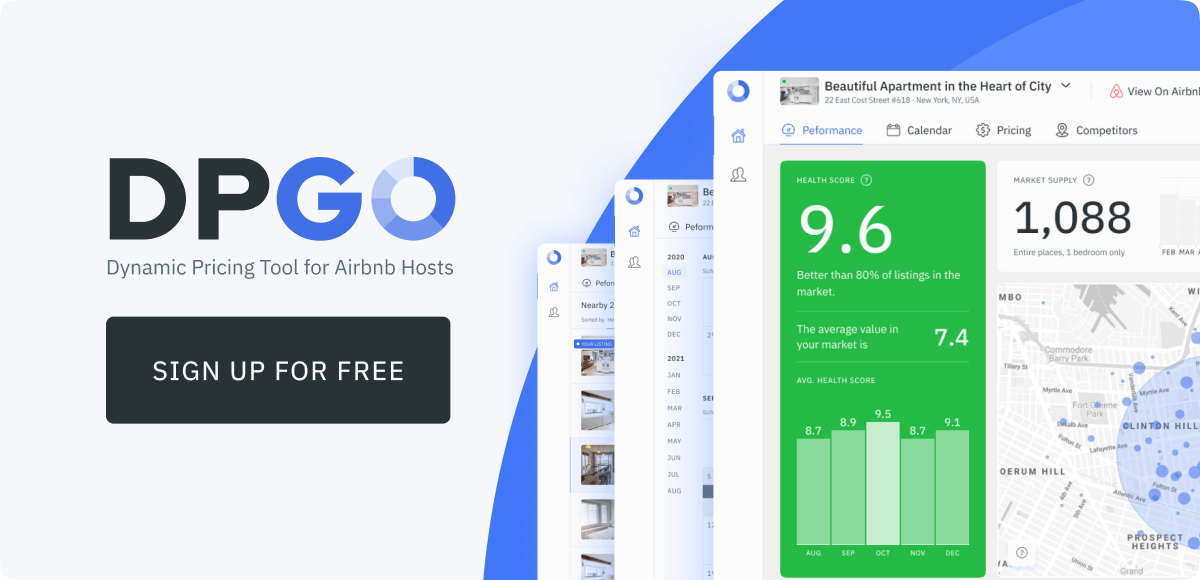 If you want a roadmap to success, check out our guide on 6 Ways to Airbnb Success. If you're a property manager, have a look at why DPGO is the dynamic pricing tool for you!