Airbnb data is critical for running a supercharged and successful vacation rental business. Occasionally, you don't need to know exactly what your competitors are doing, but a general view of how the market is behaving is a better indicator of whether you need to make changes to your listing or booking settings. 
We wanted to show you the power of these Airbnb data insights, so we collected and analyzed a range of Airbnb data to give you some interesting facts about how Airbnb listings are run in the United States. 
To make things a bit more logical, we divided this post into statements of fact. Then, underneath those statements, we explain the data, why this data should matter to you, and why it should influence your Airbnb property.
What Does the Airbnb Data Show?
On average, Airbnb listings in the U.S. have 36 reviews
According to our data, if you take the number of reviews on every Airbnb listing in the United States, then averaged them out, you'll arrive at the number 36. 
At the same time, half of all Airbnb properties in the United States have 11 reviews or fewer. This means that 50% of North American Airbnb listings bridge the gap between 11 reviews or fewer and an overall average of 36. 
Knowing the average number of reviews in the United States should give you a rough guide to what to aim for. You can increase your reviews by requesting reviews from guests or reviewing guests in the hope that they reciprocate. Reviews are really important, so keep that in mind!
Alabama has the lowest average number of ratings, with just 19. Oregon has the highest with 56 per listing.
Wi-Fi is the most popular amenity
Your amenities can make or break a booking. They're that important. In the United States, Wi-Fi is the most common amenity, with 95.9% making mention of it in their Airbnb property listings. The next most common is a smoke alarm, with 93.7% of listings coming fitted with one or more. 
After that, TV sets, 'Essentials' and heating rank next on the list with 91.4%, 90.8%, and 89.8% respectively. 
This sort of data shows you that if you don't already, you need to think about installing Wi-Fi in your property. If 95.9% of listings have it, it means it's an essential item, and not having it may differentiate you from the rest of the market in a negative way.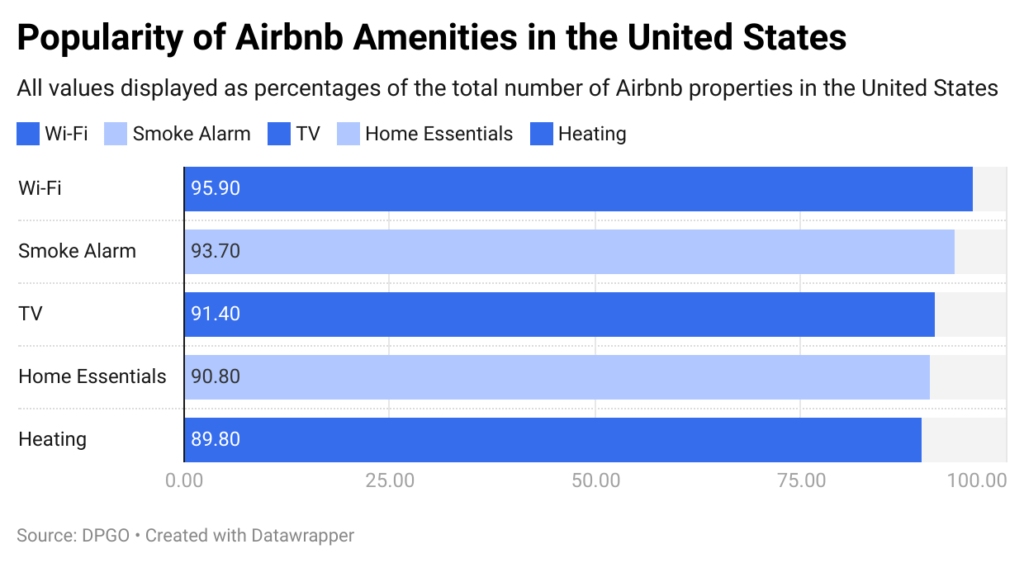 Amenities like air-conditioning, pools, and indoor fireplaces vary in popularity according to location. If you think about it logically, why would short-term rentals in Hawaii need an indoor fireplace? On the other hand, why would listings in Alaska need pools? 
Air-conditioning is surprisingly common across the United States, with an average of 82% of listings having air-conditioning fitted.
The state with the lowest average number of listings equipped with air-conditioning is Colorado with only 38.8%.
The state with the highest commonality of air-conditioning is Delaware, where a shocking 99.5% of listings have it!
Pools are, generally speaking, not very common in the United States. In fact, only 32.1% of Airbnb listings have one.

The state with the highest number of pools is Hawaii with 70.9% and the lowest is North Dakota with just 2.1%. 

Indoor fireplaces are listed in 27.6% of Airbnb listings.
Hawaii has the fewest listings with an indoor fireplace at just 1.9%.

Fireplaces are most common in Colorado with 58.3% of listings featuring one.
Free parking is important
Free parking on the premises is another important amenity for Airbnb guests. Across the country, 82.1% of listings have free parking. It's least common in the District of Columbia state, with only 33.3% of Airbnb properties offering free parking. It's most common in Vermont, with an impressive 96.9% of units offering this amenity.
How can DPGO help you with Airbnb Data?
We're local market experts, and data is the bread to our butter. If you think you could benefit from access to market insights (hint, you could), get started with DPGO today! Register for a free 30-day trial with us now and start earning more money! You can also access a selection of market insights for free at Markets by DPGO.