Trends come and go in the vacation rental world, but the desire of guests to stay in a unique Airbnb always remains. The best Airbnb properties are the out-of-the-ordinary places that guests will remember for years. These properties are architecturally advanced, perfectly decorated, and maintained to the highest standards. 
But how can hosts with objectively ordinary properties take advantage of the unique Airbnb trend? 
What is a Unique Airbnb?
The word 'unique' is defined by the Cambridge Dictionary as 'being the only existing one of its type or, more generally, unusual, or special in some way'. Think of these unique listings not as 'unlike any other', but as distinctive, special, and individual. 
Unique vacation rental properties can be labeled as such for many reasons: location, design, fixtures, amenities, and decor. Critically, they don't need to be considered unique in every aspect to be labeled as special. This is where the majority of property owners will be able to enter into the trend.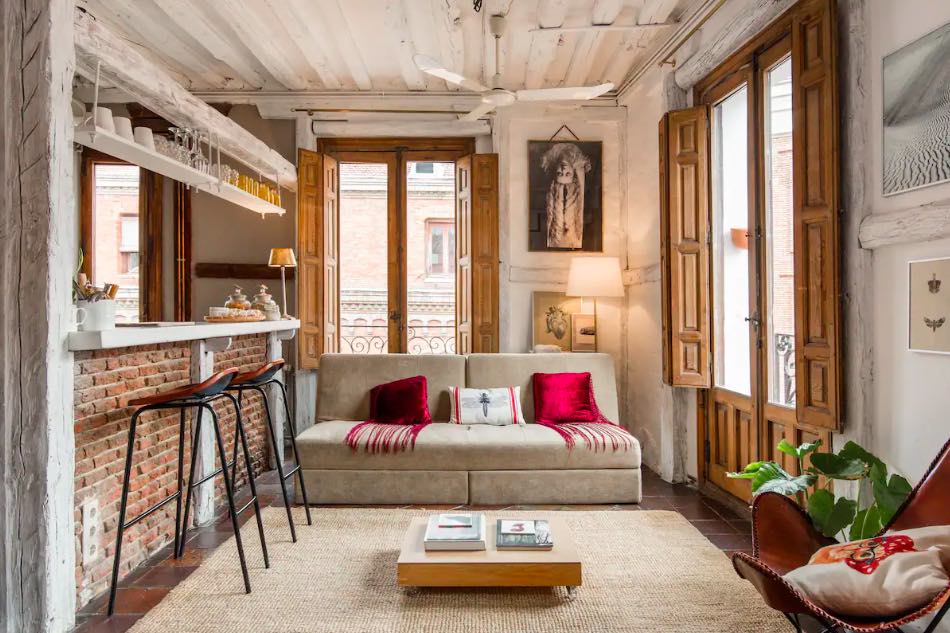 Examples of Unique Airbnb Properties 
The Tile House in the United States
Classic Spanish Design in Madrid
Yellow Submarine in New Zealand 
The Mill in Portugal
Guitar House in Romania
The Bottle House in India
How Can I Make My Vacation Rental More Unique?
There are a few ways to make your property more noticeable, but unfortunately, all of them involve remodeling, or redecorating at the very least. The architectural design of your property is very difficult to change, so you'll need more creative ways to inject some singularity into your property.     
Add Something Special 
If your property has a garden, you could add something special like a sauna, mini house, tree house, putting green or herb garden. All of these suggestions depend on space, of course. Try to add something that will make your property special, and it really could be anything. It's always a good idea to keep the theme in your home running into your outdoor area, just for continuity purposes. It will make your property more cohesive and present a polished image to your guests.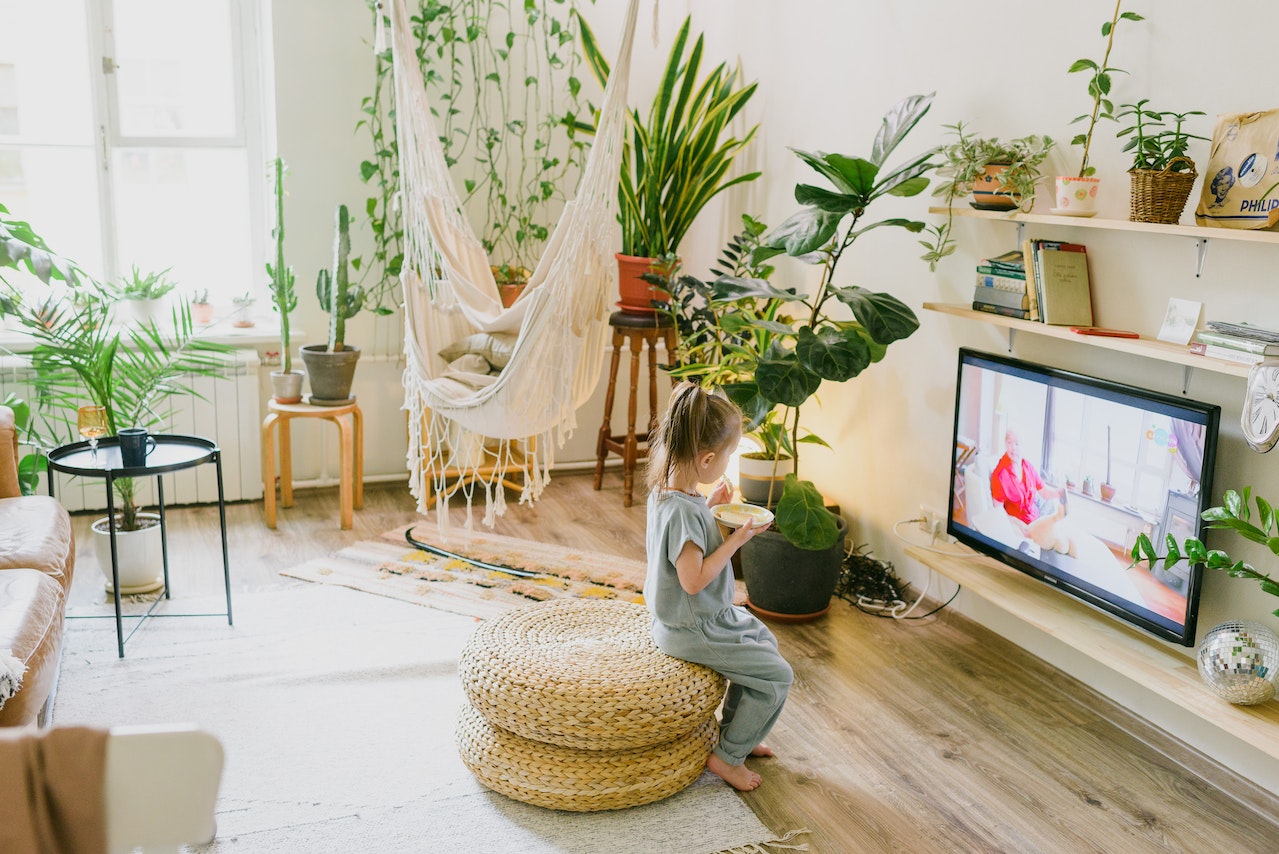 Think Outside of the Box
Have you ever seen a hammock room in an Airbnb property? Maybe it's something that would appeal to guests with kids and could mean the difference between you and your closest competitors. 
Don't be afraid to get really creative with your property listing. At the end of the day, you're trying to secure as many bookings as possible, and standing out from the crowd is a great way to do that! 
Here are a few creative things we've seen (very rarely) in Airbnb properties over the years: 
A record room – A small lounge filled with shelves of records, a player, and the option to escape reality. 

A gym – We love the creativity of putting a gym in a vacation rental. This one isn't cheap though! 

A bedroom that doubles as a cinema. A room with a luxury sleeper couch, a high-quality projector, and a big screen for movies! 
Be Consistent
The decorating in a unique vacation rental has to be consistent throughout the house! Pick a theme and try to carry it through the entire house. We've seen hosts do wonderful things with their properties simply by keeping a consistent theme or color scheme. 
There's a particularly impressive rental unit in Melbourne, Australia that we absolutely love! Titled 'Little World of Ice and Snow', it's themed like an authentic igloo. It's a studio apartment, but that doesn't stand in the way of this unit's success. This is a testament to how successful you can be with a little extra design pazaz.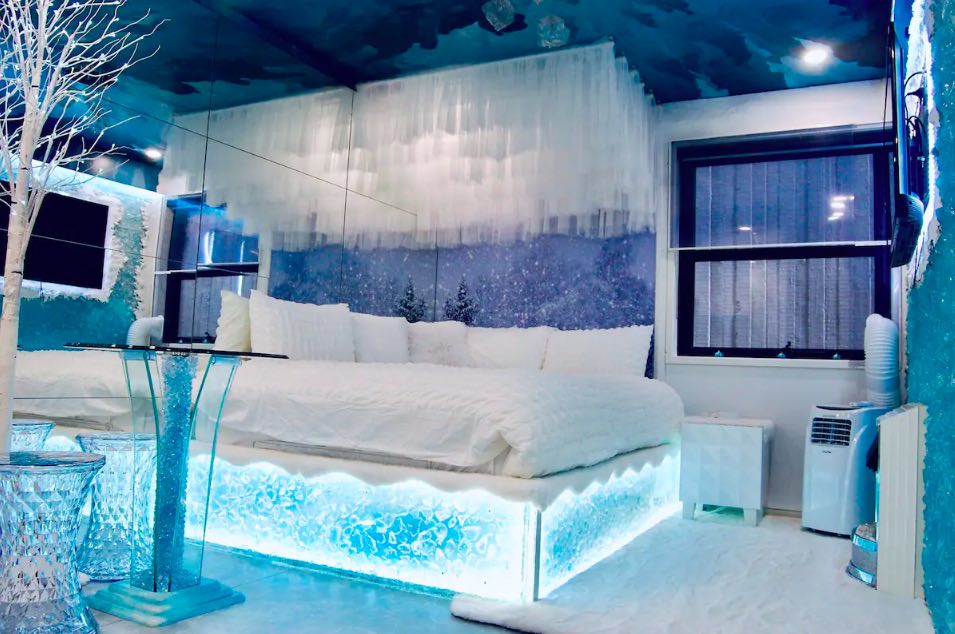 Make A Design Statement
Incorporate eye-catching statement pieces that become focal points in each room. This could be an interesting piece of furniture, a unique light fixture, an art installation, or a bold accent wall. These pieces can add character and spark conversation among your guests.
Seek out unique and uncommon decorative items that tell a story. Look for handmade ceramics, vintage trinkets, or unusual objects that add charm and character to your space. These items can become conversation starters and leave a lasting impression on your guests.
An Eye for Detail
Pay attention to small details like drawer pulls, doorknobs, curtains, or throw pillows. These seemingly minor elements can have a significant impact on the overall design and add that extra touch of uniqueness.
These minor elements can also bring your chosen theme to life. By adding very small elements to an already decorated room, it'll go from nicely decorated to professionally decorated in no time at all!
In Conclusion
You do not need to spend thousands of dollars on a total house renovation to tap into the unique Airbnb trend, but you will have to put some effort, creativity, and perhaps a little bit of cash into the project!